Saab takeover widens losses at Spyker Cars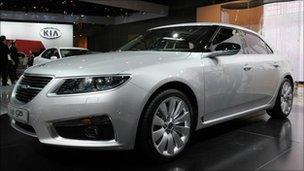 Spyker Cars, the Dutch owner of Saab, has seen its third quarter losses increase substantially following it takeover of the Swedish carmaker.
Spyker, which also makes performance cars under its own name, made a net loss of 40m euros ($55m; £35m) in the July-September period.
This compares with a loss of 4.1m euros a year earlier.
Spyker bought loss-making Saab for $74m (£47m) in February. Saab has since cut its sales target for 2010.
It now expects to make about 30,000 cars this year, down from its earlier estimate of 45,000.
Spyker intends to turn this around next year, with plans to sell 80,000 Saab vehicles in 2011, rising to 120,000 in 2012.
It intends to do this through a new range of more upmarket Saabs, and by targeting additional sales in Russia and China.
However, it does not expect to return to group-wide profitability until 2012.
Spyker's revenues for the third quarter totalled 275m euros, up from 1.1m euros a year earlier.
Spyker's purchase of Saab from US group General Motors was backed by a 400m euro loan from the European Investment Bank, which was guaranteed by the Swedish government.
Related Internet Links
The BBC is not responsible for the content of external sites.