Higher oil prices lift profits at France's Total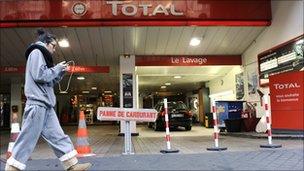 French oil giant Total has reported a 35% rise in quarterly profit, fuelled by higher prices and production.
The company made a net profit of 2.5bn euros ($3.5bn; £2.2bn) in the July-September period, compared with 1.9bn euros a year earlier.
Total's quarterly sales were up 19% to 40.2bn euros, and its strong results follow after similar figures from Exxon Mobil and Royal Dutch Shell.
Total also said that staff on strike in recent weeks were returning to work.
The workers had joined those from other firms and public sector organisations across France to protest at government moves to raise the French retirement age.
The walkouts closed Total's French refineries, causing many of its garages to run out of fuel.
The strikes have lost momentum after the National Assembly voted on Thursday to back the pension age change.
Total said its higher profits also reflected better performance in its chemicals business.
Related Internet Links
The BBC is not responsible for the content of external sites.