Spanish unemployment rate falls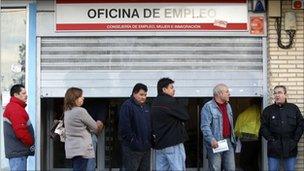 Spain's quarterly unemployment rate has fallen for the first time in more than three years, but remains the highest in Europe, official data has shown.
The country's jobless rate declined to 19.8% in the July-September period, said the National Statistics Institute, down from 20% in April-June.
Separate data for the 16-nation eurozone said Spanish unemployment totalled 20.8% in September.
The rate of unemployment across the eurozone totalled 10.1% in September.
Spain is continuing work to reform its labour laws. Such measures being put in place by the Spanish government to make it easier and cheaper for firms to make people redundant.
Madrid says the changes will make Spanish firms more willing to take on new staff.
Analyst Ben May, of Capital Economics, said it was "too early" to say if the fall in Spanish unemployment meant its economy was now slowly improving.
"I suppose it's possible this could represent a turnaround, but we really need to see a more sustained fall to draw that conclusion," he said.
"There's a chance Spain will drop back into recession in the next few months, if it hasn't done so already, and that will affect employers and their willingness to hire."
Related Internet Links
The BBC is not responsible for the content of external sites.