Big fall in German retail sales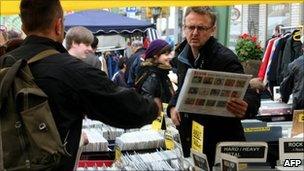 German retail sales fell in September at their biggest rate in more than two years, official data has shown.
Sales declined 2.3% last month compared with August, said the country's Statistics Office, the largest decline since March 2008.
The fall surprised analysts as the country's economic is continuing to grow, and unemployment fell below three million people in September.
Analysts had predicted that sales would rise in September by 0.4%.
Economist Carsten Brzeski of Ing Financial Markets, said the latest data was a "clear disappointment".
However, he added that the numbers had to be "taken with a pinch of salt", as German retail sales figures were often revised.
Related Internet Links
The BBC is not responsible for the content of external sites.