Japan industrial output falls as company profits rise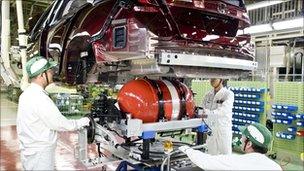 Industrial output in Japan fell in September for the fourth month running.
Production fell 1.9% from the previous month, as manufacturers suffer from the strong yen, which has undermined competitiveness and reduced the value in yen of overseas earnings.
The Japanese currency is hovering slightly more than 1% above its all-time low of 79.7 yen to the dollar.
But the data came on the same day that Sony, Panasonic, Honda and Mazda all reported strong profit growth.
The Trade Ministry said that production of electronics and particularly cars was hardest hit. It predicted that total output would fall a further 3.6% in October.
Despite this, four major Japanese exporters reported surprisingly high profits and healthy revenue growth for the last three months.
Both companies also benefited from a temporary tax credit on environmentally friendly cars.
Falling prices are also partly due to the strong yen, which reduces the price of imports.
Deflation makes it harder for individuals and companies to meet debt payments and encourages consumers to postpone their spending in the hope of cheaper prices.
The latest data confirms the Japanese government's view expressed last week that the economy is "pausing", largely because of weak exports.
Last month, Tokyo intervened directly in currency markets in order to push the yen back above 83 to the dollar (the dollar buys more yen as the Japanese currency weakens).
The success of that move lasted all of three weeks and there has been no further intervention as the yen dropped back below the 83 mark.
Then, at the beginning of this month, the Japanese central bank cut interest rates to the bone - down from 0.1% to zero - in an attempt to rouse the economy and weaken the currency.
The yen has, however, weakened against other world currencies - such as the euro - because of the falling value of the dollar.