Alstom loses Eurostar court case over German train deal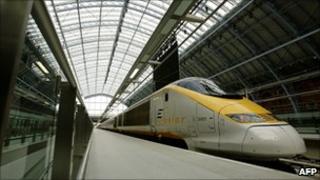 Alstom, the French engineering company, has failed in an attempt to prevent Eurostar from running German trains through the Channel Tunnel.
A UK court rejected Alstom's bid to stop Eurostar's 600m-euro (£521m) order for trains made by Siemens.
Eurostar, the sole operator of passenger trains through the tunnel, has been using Alstom rolling stock.
Eurostar's order for 10 Siemens trains has raised concerns of a protectionist row between France and Germany.
Alstom had sought an injunction stopping Eurostar from completing the deal for Siemens' high speed trains.
But at London High Court, Mr Justice Vos said Alstom would be unlikely to succeed at a trial in obtaining a court order setting aside Eurostar's decision to award the contract to Siemens.
He said he was refusing to grant an injunction, because it would pose a threat to Eurostar's progress in acquiring new trains and their business, as any trial of the issues could cause significant delays.
Sarah Hannaford QC, for Alstom, had told Mr Justice Vos that Eurostar had breached European contract law.
'Serious breaches'
The complaint concerned the way the tender for the trains progressed, and whether Eurostar continued to negotiate with Siemens when Alstom had thought there was a deal to temporarily suspend all talks.
Ms Hannaford said: "Alstom's case is that there are serious breaches of the obligations of equal treatment, transparency and non-discrimination."
However, Mr Vos said that, although there had been breaches of the tendering process, they were unlikely to have made any difference to Eurostar's decision to choose Siemens trains.
He said that Siemens was already well ahead in the bidding process when Alstom had thought talks were being suspended.