Conrad Black convictions upheld by US appeals court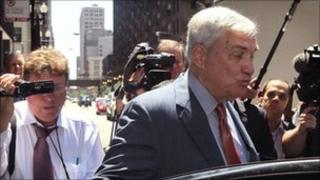 Former media tycoon Conrad Black has lost an attempt to overturn all his convictions for fraud and obstruction.
A Chicago appeals court upheld one fraud conviction and one for obstruction of justice, but reversed two fraud counts.
After serving two years of a six-and-a-half year sentence, Lord Black was recently freed from a Florida federal prison pending the appeal.
He once controlled a media empire that included the Daily Telegraph.
The appeals court said that a recent US Supreme Court ruling on so-called "honest services" law meant two fraud convictions had to be overturned.
Lord Black's convictions rested partly on the idea that he had deprived his former company of his honest services as a corporate officer.
It is possible that he will be re-sentenced on the fraud and obstruction charge, and prosecutors will have to decide whether to retry him on the other charges.
Despite losing on two counts, the US Attorney's Office for the Northern District of Illinois said in a statement: "We are pleased that the Court of Appeals affirmed the convictions on fraud and obstruction counts.
"We will make our further intentions known to the District Court at the appropriate time after we have studied the opinion carefully."