World Cup hopefuls join bid push at Soccerex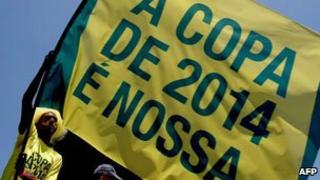 Several nations hoping to host the 2018 and 2022 Fifa World Cups are trying to bolster their bids at the Soccerex global football business seminar.
Among England's 2018 rivals, Russia has a strong presence at the event in the Brazilian city of Rio.
The Holland-Belgium bid team is out in strength, with large contingents of officials and ex-players.
But England's 2018 team has chosen to focus efforts elsewhere in the run-up to the hosting decision on 2 December.
Two of the countries contesting the 2022 slot - South Korea and Qatar - also have delegations here.
Fifa president Sepp Blatter recently said that the Korean bid could be a boost towards more cordial relations between North and South Korea.
But the country has not been mentioned as a front-runner for 2022, where the Qataris have run a high-profile global campaign for a number of years now, and where Australia, the US and Japan are also competing to host the event.
'Football first'
Similarly the Holland-Belgium campaign has not been seen as a favourite for 2018, with England, Russia and Spain-Portugal each taking turns to don the favourite's tag.
However the bid team from the Low Countries are making their presence felt in Brazil, first opening a "Johan Cruyff" five-a-side football court in an underdeveloped part of Sao Paulo, before flying up to Rio for Soccerex.
"What we want most of all is visibility," says Holland-Belgium 2018 bid spokesman Francois Colin.
"As well as opening the Cruyff court in Sao Paulo our former players also took part in a representative game there."
Those former players include Jean-Marie Pfaff, Arthur Numan, Gilles de Bilde, Pierre van Hooijdonk, Daniel Veyt, and Rob Witschge.
"We want our bid to show that we are interested in football first of all, and that football players are central to any World Cup," says Mr Colin.
The Cruyff court has dimensions of 28m x 42m, two and three-times the number 14 the famous Dutch player wore on his shirt.
"This is the first to open in South America, and by opening it an underdeveloped area of the city we wanted to show another aspect of our bid, which is developing youth football projects."
Different focus
Meanwhile, the England bid is making its final push to convince the-now-22 members of Fifa's executive committee who will decide the destination of the 2018 tournament.
Originally 24 members were due to vote but Fifa's ethics panel banned Nigeria's Amos Adamu and Reynald Temarii of Tahiti over claims they asked for money in exchange for World Cup votes.
David Dein, England 2018 bid international president, is in Rio for Soccerex, but he is not on official bid duty and is due to give a presentation at the football forum about the formation of the English Premier League.
"We are focusing our campaigning elsewhere," said an England bid spokesman.
"We have got [bid chief executive] Andy Anson going to Asia this week to promote England there. But we will not be doing anything at Soccerex this year."
Brazilian presence
For Russia, its bid chief executive Alexey Sorokin is scheduled to be in attendance at Soccerex, while its media team includes former Fifa spokesman Andreas Herren.
Meanwhile, with Brazil hosting the 2014 World Cup, representatives from that competition's organising committee, as well as host cities and states, are using the event to get together and swap information on progress to date and the way forward.
But it is the 2 December date and who will win the 2018 and 2022 bids that is concentrating most minds at present.
"For all talk about favourites, no-one can be 100% confident they have been successful until the decision is actually made," says Holland-Belgium's Mr Colin.
"No-one can predict the outcome, we feel our chances have been growing and growing, and for that reason, we feel increasingly confident."