Irish Republic finances: Are my savings safe?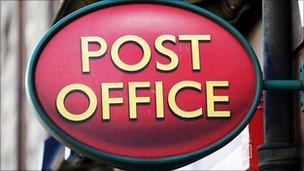 During the global financial crisis, savers showed concern over the safety of their savings.
However, the latest financial upheaval facing the Irish Republic has seen savers gaining greater protection of their deposits than was the case a few years ago.
The Bank of Ireland also provides savings products for the Post Office - and these are covered by the UK's safety net.
Those who have deposited money in the Irish Republic are covered by the Irish Deposit Guarantee Scheme.
This covers all savings up to 100,000 euros (£86,000) if a bank folds.
Banking expert Ralph Silva, of Silva Research Network, said: "It is inconceivable that banks would fail in relation to the retail or High Street investor."
What about Post Office accounts for people in the UK?
The Bank of Ireland operates the savings accounts offered by the Post Office. More than two million people in the UK have invested in banks in the Republic - mostly through the Post Office.
Up until 1 November, 2010, this was done under a licence in the Republic, but since then it has been run through a UK subsidiary.
As a result, all Post Office savings are now covered by the UK's Financial Services Compensation Scheme (FSCS).
This now protects up to £85,000 per saver per institution if a bank goes unde.
The UK cover roses to the sterling equivalent of the first 100,000 euros on 1 January 2011, with the Republic's "eligible liabilities guarantee" (ELG) covering sums above that until 30 June 2011.
The ELG protection may be extended beyond that date.
I have a fixed term bond. How is that protected?
If taken out before 11 January 2010, then the following bonds now benefit from the UK's 100% protection of the first £85,000 of savers' money.
Guaranteed Capital Bond Cash ISA
Things are different for the following fixed-term bonds opened between 11 January 2010 and 30 June 2011.
From 1 January 2011 the FSCS cover was increased to 100% of the first £85,000 (100,000 euros) while the ELG will guarantee investments above that level.
This all seems a bit of a hotch-potch?
There is some complexity to these rules.
Experts tend to advise consumers to spread their savings over various institutions - especially if they have significant sums.