Debt collector firm censured for targeting wrong people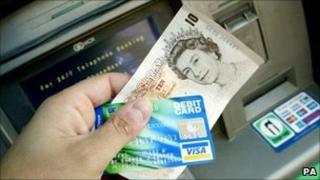 A large firm of debt collectors, Aktiv Kapital, has been censured for trying to take action against people who do not owe any money.
The Office of Fair Trading (OFT) has told the company to stop chasing debts when it has been told in writing that they are pursuing the wrong person.
The OFT said this sort of mistake was a common reason for the complaints it received about debt collectors.
Aktiv Kapital has already taken steps to address the issue, said the OFT.
Based in Bromley, Aktiv is part of a Europe-wide group.
"Aktiv Kapital had been chasing people for disputed debts without properly investigating the issues in dispute, in breach of the OFT's debt collection guidance," the regulator said.
"The investigation also found that those being chased felt unreasonably pressurised by Aktiv Kapital."
Wrong details
The company has been told to obey the rules and to check first if a person writes to claim that they do not in fact owe any money.
The OFT said the problem often stemmed from creditors passing incomplete or wrong details to another debt collector when the debt had been sold or the collection of the money had been contracted out.
Aktiv Kapital has already action to make sure it does not pursue any more people when their identities have been mistaken.
The OFT added that the firm will make sure it does not send letters or make phone calls that appear to be "threatening or to constitute unreasonable pressure."
The regulator said it wanted to make sure the problems did not re-occur, and that the firm could be fined up to £50,000 for each further breach of the rules or have its licence revoked.