Spotify to expand music service despite losses of £16m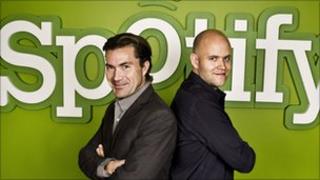 Online music service Spotify is trying to raise investment funding for what it says are "ambitious growth plans".
The move comes despite Spotify disclosing in its annual report that last year it made losses of £16.6m on revenues of £11.3m.
Expansion is likely to include entry into the US, though the firm is not yet thought to have signed up the US arms of all the big four music labels.
Spotify has about 10 million users of its free and subscription services.
According to the company's 2009 annual report it had advertising revenues of £4.5m and made £6.8m from subscriptions.
Spotify, based in Sweden but with its main operating company in London, has expanded fast across seven countries since launching in 2008.
The company, which pays royalties when songs are played, planned to enter the US in 2009, but then delayed this until the end of 2010.
According to reports, Spotify may enter the US not having signed all the big labels - Universal, Sony, Warner and EMI - to make their catalogue available to the service.
Spotify's latest annual report talks of "ambitious growth plans" and says further funding is being negotiated.
Li Ka-Shing, the Hong Kong-based billionaire, and venture capital firm Northzone Ventures are among investors in Spotify.