BA cabin crew suspension sparks union fury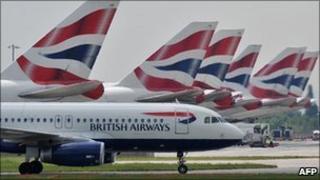 The suspension of a member of the British Airways cabin crew has been condemned by her union as an example of the "bullying and vindictive attitude which is rife among some managers".
Unite said Andrea Molton had been suspended for collecting Christmas money for sacked or suspended staff.
Joint general secretary Tony Woodley has written to the airline to formally register his "dismay and anger".
BA said it could not comment on individual cases involving staff.
"It beggars belief that at this sensitive moment in industrial relations at British Airways, management should seek to take disciplinary action," Mr Woodley told Tony McCarthy, BA's director of employee relations.
The letter added: "This meets nobody's definition of "gross industrial misconduct and has led to a wave of outrage among BA cabin crew."
He urged Mr McCarthy to intervene to lift the suspension immediately, warning if not, " the consequences will rest entirely with management".
A British Airways spokesman said the matter was being handled by its internal procedures.
"A member of cabin crew has been suspended following an allegation of bullying and harassment.
"The company's disciplinary process has been in place for many years and was agreed with all of its unions, including Unite. As a responsible company, we would not divulge details of individual cases."
'Step too far'
Mr Woodley has been under pressure from hardliners within the union to authorise a renewed strike ballot in the long-running dispute with cabin crew.
A peace deal agreed at the conciliation service Acas last month was rejected by leaders of the cabin crew's branch Bassa, who claimed it was a "step too far".
The dispute began after BA reduced the number of staff on some long-haul flights.
But after the equivalent of more than three weeks of strike days, the key issues became the loss of travel perks, which BA ended for striking workers.
The union is also calling for the reinstatement of employees who have been dismissed or suspended during the industrial action.