Notes from a smaller Ireland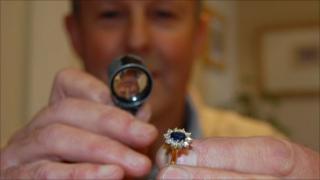 As goldsmith Brian Gleeson studies a sapphire and diamond cluster engagement ring, he knows that many young couples are being tied in knots.
He says demand for rings is dipping as young people in the Irish Republic, unable to get a mortgage, waiting for house prices to stabilise, and facing further spending cuts are putting off a wedding day.
It reveals the human impact of the austerity measures and economic difficulties, as the country works to pay back the 90bn euro (£77bn, $122bn) rescue package it accepted to shore up its banks.
But small business and consumers alike are preparing to take on the challenge - leaning towards determination rather than gloom.
"It is like bad weather," explains Mr Gleeson, carefully handling the 3,500 euro ring fit for a princess.
"The terrible conditions that were forecast have come, and there is nothing you can do about it but weather the storm."
Bail-out
Having set up his business "in the middle of a recession" in 1981, he has seen tough economic times before.
But he has also witnessed how a town such as Shannon in the west of the Irish Republic - and home to about 10,000 people - has seen surging economic growth and an influx of overseas investment.
New homes and offices are easy to find - signs of a property bubble which, when it burst in the latest recession, left the banks close to collapse.
In stepped the government, which itself has now had to accept loans from European countries and, as a result, draw up a four-year plan of tax rises and welfare cuts.
Luxuries
You might expect people to feel as bitter as the winter weather as they face the prospect of cuts in their disposable income.
But at the SkyCourt shopping centre in the centre of Shannon, which underwent a 50m euro refurbishment in 2004, it is the uncertainty of where and when the cuts will come that worries people.
"Everyone is talking about the Budget," says a mother-of-two, before adding that she is determined it will not ruin her young family's festive celebrations.
"Christmas is for children - and they do not need to know about the worries we all have."
Similar concerns are expressed by florist Marcella Murphy, and seem at odds with the cheerful splash of colour which surrounds her in her flower studio.
"It is very difficult, as I sell a luxury and perishable product," says the flower retailer of 15 years.
"I cannot see an end to all this."
She echoes the view of some other retailers, that the wealthy are choosing safety over spending, which adds to trading difficulties.
Welfare
Across the mall, next to an advert for Christmas orders, Catherine McLoughlin is placing chicken behind the display cabinet in Denver Morrissey's Butcher Shop.
She says that while festive spending may hold up this year, the ghost of Christmas Future haunts shoppers and retailers.
"People are cutting back, with cheaper cuts of beef and chicken. But I think people will really feel the bite in the future, from 2011."
Social welfare payments - such as long-term jobseeker's allowance - and one of the most generous minimum wage levels in Europe are expected to feature on the list of cuts.
The IMF suggested that both be reviewed in a recent report.
The lower paid will be working to a tighter budget. As a result, one store assistant says she has seen shoppers start to barter in recent months, or delay purchases until the next sale. Another says shoppers no longer stray above a strict budget.
Optimism
Away from the retail sector, there is speculation of more public sector job losses.
Max Halliday, 75, has lived in Shannon since 1967 and has watched as schools, a library, and a new police station have been built - despite the town having once been "out on a limb", he says.
In part, that investment has come because more than 7,000 people are employed within a two-mile radius of the airport in the Shannon Free Zone.
Primarily a cluster of North American businesses, it is here that jobs and optimism can be found, according to Joe Robbins, of locally-based recruitment company CareerWise.
He says that easy access to Europe, low corporation tax, and a skilled workforce means it retains a competitive edge.
At the start of 2009, Dell cut 1,900 jobs in nearby Limerick, but there is no rhyme or reason why others should follow suit, he says.
The double-digit unemployment rate in the Republic, he argues, is hitting those in the "domestic" sector - such as the builders and electricians who relied on the property boom.
They will now need to adjust to four years of cuts - but many will do so with stoicism.
"All we hear is doom and gloom," says a taxi driver, noting a dip in fares from the airport.
"But the sun still rose this morning - and we all had to eat, drink and go to work."