China resumes rare earth exports to Japan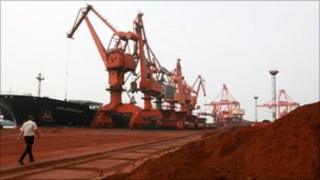 China has begun exporting rare earths to Japan after a two-month suspension due to a territorial row.
Japan's trade minister confirmed that shipments of the minerals, vital for making a number of hi-tech products, started this week.
The halt in rare earth exports came after Japan's navy arrested a Chinese fishing boat captain near disputed East China Sea islands.
China produces nearly all the world's supply of rare earth metals.
It has always denied imposing an embargo on Japan.
Japan's Economy, Trade and Industry Minister Akihiro Ohato said that two ships had left China for Japan this week.
"We hope that other shipments depart as soon as inspections are complete," he added.
Shaken by the reminder of how dependent it had become on China, Japan has been seeking to diversify its supply of rare earths.
It is negotiating agreements with Vietnam, Mongolia and Australia to develop new mines.
The Chinese fisherman arrested in the incident near the East China Sea islands in September has since been released.