Will Russia let its cities take on Moscow?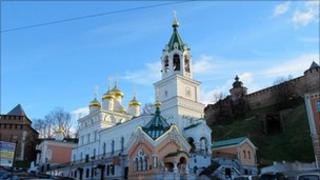 Rumours of upcoming dramatic changes to the old territorial structure of Russia have sparked further debates about how to modernise the state.
Officials in this vast country have not commented on a report in the business daily Vedomosti, which suggests that they are planning to create 20 huge urban centres around the country and abandon developing small towns and villages.
But with many Russian cities and towns being dependent on the wellbeing of a company or an industry, and Moscow being by far the dominant city, the government might eventually have no choice but to reform Russia's territorial structure in one way or another in order to boost economic development.
"Such levels of regional disparities are unsustainable for economic, social and political reasons," says Vlad Mykhnenko, research fellow at the School of Geography of the University of Nottingham.
Take Nizhny Novgorod, visited by the BBC's Russia Business Report earlier this month. It is a big industrial city only 400 kilometres away from Moscow, with a population of almost 1.3 million people.
Salaries there are much lower than in the capital and the city's population has been steadily declining along with the population of Russia.
The city relies heavily on Gaz, a huge car plant in Nizhny Novgorod, so the carmaker's fortunes have a significant impact on the city.
The example of Nizhny Novgorod is not unique: most other Russian cities have been facing similar problems, partly due to how regions, cities and towns were developed or created in the Soviet times.
Attractive capital
For decades, both in the USSR and in the modern Russian Federation, people from around the country have been trying to find a job in Moscow and settle there.
Natalia Zubarevich, the director of the Regional Programme at the Institute of Social Policy in Moscow, says that 60% of net internal migration in Russia ends up in the capital and the Moscow region.
Foreign investors also seem to be attracted by Moscow, as the city receives a quarter of all foreign investment into the country.
According to Mr Mykhnenko, "Greater Moscow accumulates 29.5% of the national GDP [gross domestic product]".
For another federal state, Germany, the corresponding figure is below 5%, says Mr Mykhnenko, who is also a principal investigator in an extensive European Commission-funded study of Europe's shrinking cities and governance responses.
German system
In Russia, Moscow and St Petersburg have the status of "federal subjects".
It allows them to collect many taxes and use other financial resources unavailable to other cities to better improve their infrastructure.
Three German cities - Hamburg, Bremen and Berlin - have a similar federal states status.
But there are other big cities, such as Munich, Cologne or Frankfurt, that do not have it but are developed economically, says Sven Leunig, a German federal system analyst.
"In fact, their economic level seems to be even higher than that of Bremen, for example," he points out.
Experts believe that there is a number of purely historical reasons why Germany has so many "equal" cities.
German law "states that local authorities are very strong", says Tine Fuchs, director of urban development at the Association of German Chambers of Industry and Commerce.
"To change the system would be nearly impossible because of the law."
Similar, not the same
Russia is far from being the only European country where its capital city plays a very dominant role.
"At a broad scale it can be said that an integrated urban system, with a number of cities of different sizes, is a more secure basis for economic development," says Fran Tonkiss, director of the Cities Programme at the London School of Economics.
"There are, of course, exceptions to this pattern - the UK and France are both wealthy economies with very dominant capitals - and countries that are smaller geographically may tend to concentrate around a major urban centre."
Mr Mykhnenko says that one pound in every five in the UK is earned in Greater London, which represents 20.9% of GDP, whereas more than 28% of France's GDP is concentrated in the Greater Paris area.
However, Ms Tonkiss argues, while London is a classic example of a dominant city, there has long been a political focus on regional development around other urban centres in the UK.
"Other cities saw comparable rates of growth over the 2000s, with cities such as Leeds and Edinburgh growing as financial centres," she says.
"So even in a sector like financial services, it's not 'all about London'."
Political intentions
Ms Zubarevich says that in the 2000s, before the crisis, non-capital Russian cities started developing faster - thanks to booming oil revenues.
"There was so much money that it reached even these cities," she says.
Experts agree that while it is crucial for local governments to take the right steps in order to close the gap with Moscow, a lot depends on the actions of the federal government.
Mr Leunig suggests that there are the intentions of the political leaders that might be missing nowadays in Russia.
"I think [the existing system] fits more to their traditional attitudes, which are to lead all economic 'streams' to Moscow.
"Furthermore, foreign money is easier to control if it is concentrated in one city, rather that spread all over the country."
Ms Zubarevich believes that the Russian government understands the need to decentralise, but is reluctant to do so for political reasons and because of distrust towards regions and the desire to control all money flows.
However, if the reports of the Kremlin planning some dramatic changes to the country's population structure prove to be true, it will mean that the Russian government is ready for action.