The lengthening shadow of Irish cuts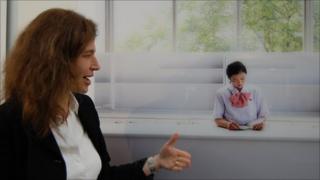 The Limerick City Gallery of Art has just displayed an exhibition steeped in irony, given the perilous state of the Irish Republic's economy.
'I Only Come Here 'Cos it's Free' was artist Michael McLoughlin's project, based on his interaction with the local community.
It was originally put together about two years ago when the financial crisis first struck.
Now the city gallery itself is facing a battle to hang on to funding as four more years of austerity measures begin.
"We all know there will be cuts next year," says acting gallery director Marian Lovett.
"The extent to which they will impact on the arts is unclear - but it will be a minimum of 10% to 20%."
Funding
The gallery receives a significant slice of its funding from the Limerick City Council.
In the four-year cuts programme announced by the government on Wednesday, local authorities took a significant hit.
Their budgets will be cut, and staff numbers will fall by 14% by 2014.
While free entry to public galleries such as the one in Limerick are unlikely to be changed, Mrs Lovett suggests that opening hours and payments to artists could end up being cut.
At the moment, the gallery is showing photos from North Korea, and Mrs Lovett explains how each image of the totalitarian country appears straightforward only at first glance.
While it would be wrong to make any comparison between Limerick and Pyongyang, there is a sense in both cities that all is not as it seems.
On the streets of Limerick, there is little outward sign of financial suffering or an austere atmosphere.
But listen to snippets of conversation and you will hear talk of "deficits" and "budgets", rather than the usual chat about the successes of the local Munster rugby team.
"We are all going to have to pay," an Italian restaurant manager tells his young assistant while discussing the economic situation.
Battle
Limerick is the Republic's third largest city. Its motto explains it is "well studied in the ways of war".
It was twice besieged in the late 1600s, and the local women famously defended a breach in the city walls.
Now workers, shoppers and homeowners are expecting to be surrounded and squeezed by four more years of budget cuts - the pre-condition of the multi-billion euro package of loans from the Republic's European neighbours.
Sean and Sheila O'Brien, out shopping with their baby, are expecting the allowances for their children to be hit by the reduction in welfare payments.
They feel those "directly accountable" for the crisis should be setting a precedent themselves by cutting back.
Paul O'Brien Snr has been in business as an estate agent since 1971.
He says the proposed new property tax that will cost homeowners up to 200 euros each by 2014 will mean people are even less likely to move home.
He is wishing for an abolition in stamp duty in next month's Budget to put some life back into the Republic's moribund housing market.
But most significantly he wants the embattled banks to start lending again.
"There are plenty of customers out there but the lending criteria [set by banks] are so severe," he says. "First-time buyers have to tick every single box."
Investment
The burst of the property bubble led the Republic to become the first eurozone country to slide into recession, in September 2008.
Some argue that investment, to stimulate the seeds of economic growth that do exist, should have taken a greater priority than the spending cuts.
Yet, the Republic's competitive 12.5% corporation tax stays in place and support for small and medium sized businesses, although reformed, will remain.
Helen Downes, chief executive of the Chamber of Commerce in Shannon - which neighbours Limerick - says every new bill that lands on a small business owner's desk brings pain at the moment.
But she argues that now is the time for them to be marketing heavily, to be ready for when people's spending power picks up again.
She adds that exports could be the key to future posterity.
"Irish exports are increasing, as our cost competitiveness has improved over the last 18 months as a result of the measures already taken," she says.
Overseas
Back at the City Gallery in Limerick, it is the export of labour - rather than goods - which is crossing the mind of acting-director Mrs Lovett.
She has already been made redundant once as a result of spending cuts, and her husband - an artist himself - has seen temporary teaching slots dwindle.
The Irish arts scene remains "dynamic" with studios popping up in empty retail and office premises, she says, but she is looking at opportunities for jobs overseas.
It is not what she had been expecting, with two young children.
"I am at a stage in my life when I thought I would be set up and settled," she says in a soft, considered way.
She believes there is a sense of fear among everyone in the public sector. Some 24,750 jobs will go.
"People are incredibly worried about their individual positions and take-home pay. Who will go, where, and why?" she says.
"We do not know how much worse it is going to get and how much longer it is going to last."
Despite the "humiliation" of the IMF being called in, she hopes that its involvement may ensure some fairness in how the spending cuts come.
Meanwhile, she says the arts scene will survive.
Artists may face a lower standard of living - but, she says, they never did it for the money anyway.