US spending rises despite housing market woes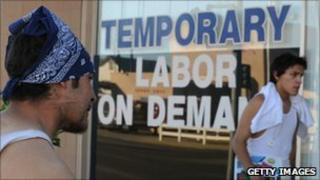 US household incomes and spending rose in October, giving Wall Street a lift, despite continuing housing market woes.
Personal income was up 0.5% versus a month earlier, with consumer spending up 0.4%, the commerce department said.
The news - along with a surprise drop in unemployment benefit claims - boosted US shares, with the Dow Jones ending the day 1.4% higher.
Markets seemed unconcerned at separate data that showed house prices and sales of new homes in the US falling again.
The personal income and spending data was largely in line with analysts' expectations, and despite the rise, income remains more than 4% below its pre-recession peak.
However, markets were encouraged by a report from the Department of Labor that weekly claims for unemployment benefits fell to the lowest level in more than two years last week.
Housing doldrums
Meanwhile, other data confirmed that the US housing market is slumping again.
New home sales fell 8% in October from the month before on a seasonally adjusted basis, the US Census Bureau reported.
Total sales for the month were the lowest on record, beating a previous record set in 1981, according to economist Bill McBride.
This follows a more encouraging report on existing home sales in October, released by the National Association of Realtors on Tuesday, which showed sales up 8.4% versus a year earlier, with the inventory of unsold housing falling versus the previous month.
According to Mr McBride, the better performance of existing home sales, compared with new home sales, since the recession began reflects what he calls a "distressing gap".
Many existing home sales are of repossessed houses, and the steady supply of these foreclosure sales is depressing demand for new homes.
It is also weighing on house prices, with Federal Housing Finance Agency reporting that house prices fell by a seasonally adjusted 0.7% in September, continuing a renewed downturn in prices that began over the summer.