Dubai's debt crisis: One year on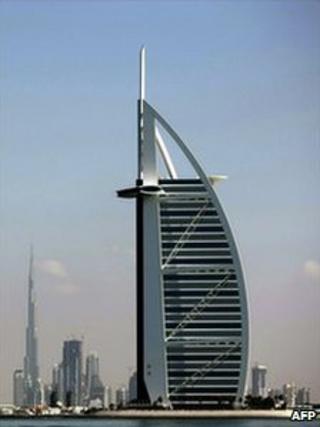 For a city that had got used to the heady heights of economic success, Dubai came back down to earth with a bit of a bump last year.
Its success had been symbolised by the huge skyscrapers dotting Dubai's skyline.
When Dubai World, one of the emirate's largest state-backed companies, asked to delay repaying some of its debts for six months, it shocked markets around the globe.
Now the emirate has had to start looking at its economy from a different perspective.
Crying for help
Dubai World is massive.
Its businesses include one of the world's largest ports, Dubai's industrial zone and the ambitious property developer famous for those palm-shaped islands, as well as assets including the QE2 cruise liner.
But to get this big, it borrowed big too.
When the company cried for help last year, its debt was estimated at about $59bn.
It needed to restructure about $26bn of that.
So it was understandable that problems in the company would cause shockwaves across Dubai and beyond.
Dubai was already suffering from the fallout of the global downturn before it developed problems of its own.
With little oil in the emirate - most of the UAE's oil reserves are in neighbouring Abu Dhabi - Dubai's recent rapid economic growth was fuelled by property.
But since the peaks of 2008, property prices have fallen by as much as 50%.
Projects have been cancelled and thousands of people have lost their jobs as a result.
Surprise
Dubai World's property company, Nakheel, brought all of this closer to home.
It was one of Nakheel's sukuks, or Islamic bonds - worth $3.5bn and due for repayment in early December last year - that prompted Dubai World to ask for a repayment standstill.
Dubai's government initially distanced itself from what was happening to one of its flagship companies, saying that the business was responsible for its own actions.
It took three weeks for Abu Dhabi to come to the rescue to the tune of $10bn - just in time to allow Dubai World to repay Nakheel's bond.
Many were surprised by Abu Dhabi's actions and intrigued about its motivations.
Perhaps there was just too much at stake for the country in letting Dubai World fail.
Relief
Since the rescue by Abu Dhabi, Dubai has tried to get back on its feet - and to a certain extent, it has succeeded.
Dubai World laid out its restructuring plans in March and, much to the relief of its creditors, said it would repay them in full over the next five to eight years.
Last month, Dubai World got all of its creditors to agree on its plans, giving the company the green light to move forward without the problem of having to negotiate separate deals with individual creditors.
The expectation that Dubai's demise was imminent seems not to have been fulfilled.
This year's Ramadan was a case in point.
As they do every summer, foreigners working here try to head to cooler climes during the holy month.
It is an excuse to get away from the searing Gulf heat and take a holiday at the same time.
The question in the minds of many of those left behind last year was whether those people would be coming back.
But return they did - and this year, there is a feeling that Dubai has recovered somewhat.
Still in debt
Analysts say that the fallout has concentrated minds and Dubai now needs to focus on its strengths - its hotel and tourism sector and its role as a logistics and transport hub.
It is these sectors that have proved comparatively resilient in Dubai's economy.
Predictions that Abu Dhabi would be the new Dubai, as the hub of the UAE, have also so far been unfounded.
Abu Dhabi is certainly on the rise and Dubai's woes have also turned into advantages for some.
Property prices are now lower than in neighbouring Abu Dhabi, and Dubai still has a more developed infrastructure, so people are choosing to remain in Dubai and commute to where the work is.
But there is a long way to go yet.
Dubai is still heavily indebted from the boom times.
With a great deal of that debt coming due in the next year or so, question marks remain as to how it will be repaid.
Dubai's ruler Sheikh Mohammed Bin Rashid Al Maktoum proclaimed recently, "We are back," and that life would be boring without challenges.
Dubai may be back from the dark place it was in last year, but creditors may want to stick to the "boring" for a while longer.