'Slow grind' to economic recovery in Scotland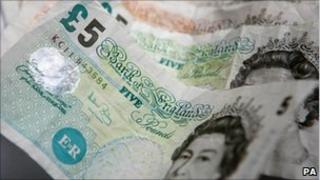 Scotland's economy will avoid a double-dip recession but full recovery will not be achieved for a decade, according to a leading economic forecaster.
The Ernst & Young Scottish Item Club has predicted growth of 1.1% this year and 2.2% in 2011.
However, it cautioned low pay rises coupled with tax increases pointed to a "joyless, jobless recovery".
It said it could be 10 years before employment reached pre-recession levels.
The Item Club, which uses the same economic model as the Treasury, said the recovery would be a "slow grind" rather than a "snap back" typically seen after other recessions, and this was down to the "lingering impact" of the banking crisis and public sector cuts.
However, it suggested there was some optimism to be gained from the latest revisions to the GDP data which show Scotland's economy grew faster in the run-up to the downturn than previously thought.
Item said Scotland's revival was "now on par with the UK as a whole".
Dougie Adams, senior economic advisor to Item, said: "Scotland can look forward to a relatively good year of output growth.
"However, labour market trends have a telling impact on the economic mood and things are less buoyant in that respect."
He added: "The country has suffered substantially bigger job losses than other parts of the UK and we predict little net employment growth over the next two years, with only 6,000 of the near 200,000 jobs that were lost being added back to the market by 2012."
Item predicted a further 40,000 job losses from public sector cuts by 2015.