Mortgage approvals fall to six month low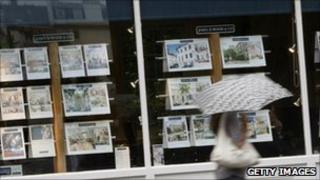 The number of new mortgages being approved for house buyers has fallen for the sixth month in a row, Bank of England figures show.
There were 47,185 mortgage approvals in October, down slightly from September's level and 17% lower than in October 2009.
The data suggests that house sales will be stuck in a rut in the coming months.
Separately, the property website Hometrack said the average home was now taking nearly 10 weeks to sell.
This, it said, was the longest sale time for 17 months.
"The seasonal slowdown in the housing market has kicked in a month early, with demand for housing falling at the fastest rate for 23 months," said Richard Donnell, director of research at Hometrack.
"Concerns over the economic outlook on the back of recent spending cuts, together with widespread expectations that house prices are set for a period of retrenchment, are driving the continued weakness in demand."
Downturn
Although about 40% of all property sales are going through without the use of a mortgage, mortgage approvals are still a good indicator of future trends in sales.
Last week, HM Revenue & Customs (HMRC) revealed that UK property sales in October had, at 79,000, been 11% lower than a year before.
All the main house price surveys have shown prices dropping in the past few months, after reviving briefly late last year and in the early months of 2010.
The Nationwide building society, one of the UK's biggest mortgage lenders, last week predicted that prices may continue falling in the coming year.
"Lending activity across the market has shown signs of weakening in recent months," said Adrian Coles of the building societies' association (BSA).
"Reports of falling house prices and government spending cuts have lowered consumer confidence, which has put further downward pressure on demand for mortgages," he added.
Squeeze
Figures from the BSA continue to show that savers are withdrawing more than they save in their accounts with building societies and mutual banks.
A further £1.3bn was taken out in October, the tenth month out of the last 12 in which there has been a net withdrawal of savings.
"Consumer price inflation remains above average earnings growth and the labour market remains fragile - this is squeezing household finances and many are using their savings to supplement their incomes or to pay off debt," Mr Coles said.