Anglo Irish Bank's wind down will take 'years'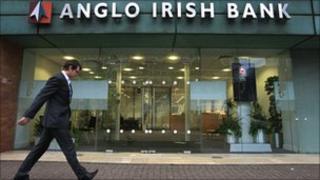 A strategy to wind down Anglo Irish Bank's loan book should be ready by the end of January, the Republic of Ireland's central bank has said.
The plan will then be submitted for approval by European and International Monetary Fund authorities.
The central bank emphasised that it would take years to wind down Anglo's loans, required as part of Dublin's 85bn euro (£72.1bn) bail-out.
Reports earlier in the day suggested Anglo could be wound up in January.
The bank made a pre-tax loss of 8.2bn euros in the six months to June, on top of 12.7bn euros for the whole of the previous financial year.
As part of the Irish Republic's bail-out, the country's banks will be recapitalised with about 10bn euros of funding.
State-rescued Anglo is likely to be split into two banks, with the heavily-indebted 'bad' half wound down or eventually sold.
This is similar to the fate of the UK's Northern Rock bank, which also had to be nationalised, before being split into two.
On Monday central bank governor Patrick Honohan sparked confusion during a radio interview when his mention of the end-January deadline for Anglo prompted reports that the bank could be wound down by then.
Clarification
In a statement later the central bank said that Anglo's restructuring plan would be submitted by the end of January, as agreed by Dublin and the European finance ministers.
"Any wind-down of the loan book of Anglo would however be over a multi-year period as in the current restructuring.
"These measures are designed to provide an orderly resolution for the future of Anglo in a manner that is consistent with EU competition law and agreed with the European Commission," the statement said.
The bank is on course to cost the Republic's taxpayers between 29bn and 34bn euros by the time it is fully wound down.