BA boss Willie Walsh brushes off strike threat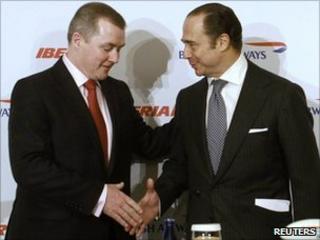 British Airways chief executive Willie Walsh has brushed off concerns about possible industrial action next month by cabin crew.
BA had "excellent contingency plans", he said, which would significantly minimise the impact of any strike.
Monday's decision by the Unite union to ballot members over further action, overshadowed shareholders' approval of BA's merger with Spain's Iberia.
He said the long-running dispute was the result of a "dysfunctional" union.
In Madrid to announce details of that tie-up with Iberia, Mr Walsh said Unite had negotiated a deal with BA and committed to recommending that to its members.
The BA boss insisted that the structural changes at the heart of the dispute - which Unite has called a "vicious war on the workforce" - are critical to making BA a profitable business, and viable for the future.
That motive is central to British Airways' merger with Spain's flag carrier Iberia, creating the third largest airline in Europe in terms of revenue.
On a platform flanked by the Spanish and British flags, Willie Walsh announced that the new International Airlines Group (IAG) wanted to lead the consolidation of the airline industry, not "stand on the sidelines", and was already planning the acquisition of "other strong brands" to create a multi-national group.
The BA boss didn't specify which airlines IAG had its sights set on, but said the group would lobby governments outside Europe to remove what he called "significant regulatory hurdles" to further mergers.
The tie-up between BA and Iberia is a survival strategy for both in an increasingly difficult environment.
Whilst Iberia will benefit from access to BA's flight network in North America, BA is particularly keen to tap Iberia's ties with Latin America - a fast-growing market.
The 5bn euro (£4.2bn; $6.5bn) merger also adds up to 400m euros a year from 2015 in savings and extra revenue - though Mr Walsh said those savings would not come from mass redundancies.
The BA chief executive, who will become chief executive of the new, merged IAG, singled out the extra capacity available at Madrid's Barajas airport as a "fantastic" opportunity to be exploited by British Airways, when runways at London Heathrow are full and no new space available.
"This highlights the difference in attitude of the government of Spain and the UK," he said. "I believe the government here recognises the value of aviation to the Spanish economy."