Russia 'to lose $25bn in capital flight in 2010'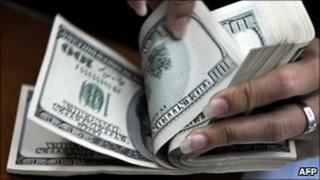 Up to $25bn (£16bn) will leave Russia in capital flight this year, as its economic growth "remains very fragile", a top Russian official has said.
Net capital outflow exceeded $50bn in 2009 after reaching $130bn in 2008.
Russia's economy was hit hard by the latest financial crisis and worries about its investment climate remain.
The government had hoped that capital outflows would be closer to zero, as the economy has been recovering in 2010.
In October, it said it expected the net outflow for 2010 to be $12bn.
The energy-dependent economy shrank by almost 8% last year, after the crisis started in 2008 and oil prices plummeted.
This year, economic growth is expected to reach 4%, Russian President Dmitry Medvedev said on Tuesday.
Deputy Economy Minister Andrey Klepach also said that Russia would be likely to fail in its aim of eliminating its budget deficit by 2015.
Rates unchanged
Earlier this month, the Russian central bank decided to keep interest rates unchanged to avoid damaging the current economic recovery, despite worries about higher inflation.
Mr Klepach agreed with the move.
"When inflation picks up more, there will be a case [for raising rates] but right now economic growth is still very fragile," he said at a banking conference in London.
Budget deficit
The government is widely expected to increase social spending as it enters the period of parliamentary and presidential elections next year.
Russian President Dmitry Medvedev highlighted a number of social spending initiatives in his annual speech to the nation earlier.
However, Finance Minister Alexei Kudrin said that the moves would require changes to the current budget.
"The country is living with a deficit," he said, according to the Russian news agency RIA Novosti.
"We'll need to redirect spending from other fields."
The 2010 budget deficit is expected to be 4.6% of gross domestic product, Mr Kudrin said earlier this month.