Keydata: Full compensation for Lifemark investors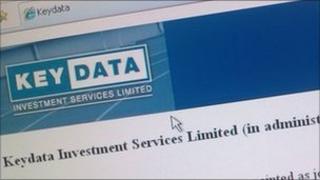 People who bought investments from the defunct firm Keydata are to be refunded in full, up to certain limits.
The Financial Services Compensation Scheme (FSCS) will make full payments, up to its ceiling of £48,000, because the investments, in Luxembourg firm Lifemark, are probably worthless.
This affects about 19,000 people who invested a total amount of about £350m.
Investors started lodging claims in September and the first payments are due to be paid out later this month.
It had not been clear until now whether the victims would refunded in full, up to the £48,000 limit.
"We are now satisfied that these [Lifemark] bonds have no value for FSCS in quantifying the claims of individual Lifemark investors," said the FSCS.
"Compensation payable to eligible investors will not, therefore, be reduced to take account of an amount representing a value for the bonds," it explained.
Offers
Keydata was put into administration by the Financial Services Authority in the summer of 2009.
It became clear quickly that one group of 5,500 investors, who had bought £103m of bonds issued by another Luxembourg company called SLS, also sold via Keydata, had been defrauded by SLS's owners.
They have subsequently been offered £42m of compensation from the FSCS.
Meanwhile the Lifemark investors have had to endure months of uncertainty.
That concerned whether or not they might be eligible for any FSCS compensation at all, and about whether their investment policies, which are still under the control of Lifemark's administrator in Luxembourg, have any remaining value.
The Lifemark investors were first offered compensation in September, though at the time it was not clear how much value the FSCS would ascribe to their trapped investments in calculating how much to pay out.
In October, the Norwich & Peterborough building society, which had sold Keydata polices to more than 3,000 customers, said it would lend £1.5m to Lifemark.
The money was to let Lifemark keep paying the premiums on its portfolio of second-hand US life insurance policies - in which it had invested the Keydata clients' money - to stop them lapsing and losing all their value.
The loan was put in place in conjunction with a £4.8m loan from a US hedge fund called CarVal.
However, the FSCS has decided that the Lifemark bonds sold to investors in the UK are unlikely to have any value for the investors in either the short or medium term.
Welcome news
Geoff Hartnell, an independent financial adviser closely involved in the Keydata victims campaign, described the latest FSCS decision as "great news."
"This does not mean that the underlying bonds are worthless, but investors can apply for compensation in the knowledge that if their claims are accepted they will receive payments," he said.
Keydata investors have welcomed the latest FSCS announcement.
"I am delighted to hear the good news," said one on the forum of the Keydata victims website.
Another described it as "the best news we have heard for 10 months".