Russia hopes for World Cup boost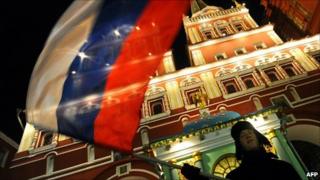 Russia's victory in the race to host the 2018 football World Cup will cost it billions of dollars, but promises some potentially huge long-term benefits.
The country's sheer size and the way it was developed during Soviet times mean that Russia's infrastructure is in dire need of dramatic modernisation.
So 16 stadiums in 13 cities will be either renovated or built from scratch. This alone will cost $3.8bn (£2.4bn), according to an official forecast.
Some estimates suggest that at least twice that amount could be needed to upgrade most airports, to develop high-speed rail services and to build roads and hotels.
There are even analysts who talk about "tens of billions of dollars" in likely spending ahead of the tournament.
Gained experience
Russia's bid to host the World Cup was helped by the progress the country had made in organising the 2014 Winter Olympics in Sochi, awarded to Russia in 2007.
Initially, the government said it was going to spend 314bn roubles ($10bn, £6.5bn) on organising the Games.
But since then, the figure has risen considerably. Russia's economy ministry estimates that the state would spend 1tn roubles of budget money during the 2009-2012 period.
Russian Finance Minister Alexei Kudrin promised that the World Cup would cost Russia "significantly less" than the Winter Olympics.
"We have a clear plan on assigning sites," he said.
Tourist destination?
Congratulating Russia and Qatar on winning the right to host World Cups, Fifa president Sepp Blatter said: "For 2018 and 2022, we go to new lands."
But Russia could become a new land not only as an international football hot spot, but also as a popular tourist destination, attracting more money from abroad.
For years, many foreigners have been put off travelling to Russia by the need to obtain a visa, lack of affordable and comfortable hotels and the underdeveloped transport infrastructure.
The Russian government has pledged to scrap visas for holders of World Cup tickets.
It also promised that football fans would be able to travel for free between host cities.
Despite the government restricting the World Cup project to the European part of Russia, the distance between the easternmost host city (Yekaterinburg) and the westernmost one (Kaliningrad) is 2,500 kilometres (1,550 miles).
That is why improving Russia's outdated transport infrastructure will be essential.
The same goes for building new hotels, and there have been talks about creating thousands of new hotel rooms over the next few years.
Government's guarantees
To implement all the projects, the government will need to put in a lot of money and effort.
As is the case with the 2014 Winter Olympics, full state guarantees will be given to the World Cup project.
Russia's eventual financial success - or failure - in organising and hosting the tournament might be evident only years after it is over.
But one thing is almost certain: there is unlikely to be a shortage of funds at any stage of the project.
As Sochi has shown, even the financial crisis failed to derail Russia's progress in organising the Winter Olympics, with spending soaring well beyond initial estimates.