Three questions: Matthew Finnie, Interoute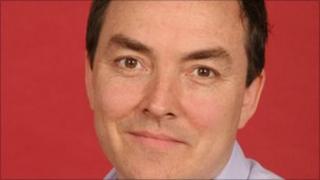 Each week we'll be asking chief technology officers and other high-profile decision-makers three questions.
Answering today is Matthew Finnie, chief technology officer of telecom services provider Interoute, which provides the infrastructure and cloud computing power for many household firms.
"When you make a phone call to India on your mobile, there's a good chance that Interoute is behind that," he says.
What's your biggest technology problem right now?
There's a lot of convergence happening across the telecoms industry in terms of services across devices. For example, your phone is a place to make phone calls, play video.
Each telecom used to be a silo, if you will. Our biggest challenge is that this is moving very fast across the traditional borders of the telecoms firms and it's a question of our suppliers keeping up.
We want to go very fast, and they're saying 'Wait, hang on. As we move into other areas, it means we're competing with a whole new set of companies.'
So the old definitions are changing.
What's the next big tech thing in your industry?
The traditional idea of a telecoms operator is going to change.
The whole concept of buying a box is going to go. Rather, telecoms are going to have to pick and choose what services they offer. Rather than owning all these things, they will start to plug themselves into the telecoms factory.
It's tantalisingly close. I would say we are two to three years away from this.
What's the biggest technology mistake you ever made - either at work or in your own life?
My biggest regret is doing stuff too fast, when it would have been better to wait.
In my previous life, I worked at one of the early pioneers of VOIP [Voice over Internet Protocol, which is internet phone services like Skype], and we were trying to build whole networks when people still didn't understand the idea.
We sold a product called the Internet Phone - or iPhone, funnily enough - and our slogan was "Call for free". Eight years later, Skype launched and their's was "Call for less". There's a lesson there.
Sometimes you move really fast, and you need to learn to slow down.