OFT warns retailers about 'misleading' price offers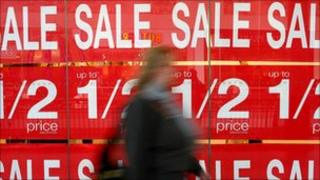 The Office of Fair Trading (OFT) has warned retailers about tricking customers with misleading price offers.
In a report issued on Thursday, the OFT vowed to take action against High Street and online firms which break the law by not making price offers clear.
One practice the OFT is worried about is "drip" pricing, where compulsory costs, such as delivery charges, are added during the buying process.
But the British Retail Consortium said any new legislation would be pointless.
Other practices the OFT said it was concerned about were time-limited offers such as "offer ends today", and "bait pricing" - the advertising of sale products with only very limited stock in order to lure customers through the door.
The OFT said such promotions were not unlawful, but could be against customers' interests.
Enforcement action
The regulator said it had obtained its information from consumer surveys, focus groups, psychology literature and "groundbreaking behavioural economics research".
There was plenty of evidence that certain pricing techniques could lead consumers into buying decisions they would not have made were prices more clearly advertised, the regulator said.
Misleading advertising is illegal under the 2008 unfair trading regulations.
John Fingleton, OFT chief executive, said the regulator was keeping a close eye on price promotions and would take action against practices that were "serious breaches of the law".
"Today we are urging businesses to review their pricing practices in the light of our report and we will, where necessary, take enforcement action against firms that don't have their house in order," he said.
Among the other potentially misleading marketing tactics of which the OFT disapproves are:
complex prices with numerous related elements
claims that prices are now lower than they were
multiple unit offers such as 'three for two'
supposedly free elements of a deal.
"We are concerned that the misleading element of this is growing and we want to stamp it out - even a sophisticated customer can be confused," Mr Fingleton told the BBC.
'Competitive market'
However, retailers said customers knew when they were being misled.
Tom Ironside, British Retail Consortium director of business and regulation, said: "Customers aren't stupid. They make sophisticated judgements about prices and value within stores, between stores and over time and have all the information they need to do that.
"Discounts and promotions are part of our highly competitive retail market and customers benefit from them," he said.
The BRC said that there were currently a record number of promotional deals on offer, at a time when household budgets were feeling the squeeze.
Latest figures show 37% of fast-moving consumer goods are on some sort of promotion or discount at the moment, which the BRC said was an all-time high.
Mr Ironside said: "BRC members... would have nothing to gain from attempts to mislead and any extra legislation or over enforcement on this issue would therefore be pointless."
'Frustration'
Consumer groups welcomed the OFT's warning to retailers not to fool their customers.
"One area that particularly irks consumers is card surcharges," said Peter Vicary-Smith of consumer body Which?.
"Whilst retailers have to cover their costs, we've found that surcharges for paying by plastic often far exceed the cost to the vendor," he added.
Consumer Focus said the practices criticised by the OFT were not necessarily illegal but were unfair.
"Consumers should know upfront what the goods and services they buy will cost," said Prashant Vaze at Consumer Focus.
"Nothing frustrates consumers more than seeing the price bumped up by extras such as booking fees and handling charges added at the end of the transaction," he said.