Debt management firm warned over misleading names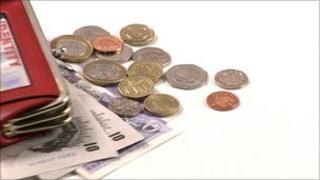 Debt management firms have been told not to suggest they are charities or an official government service.
The Office of Fair Trading issued the warning as it told one company not to use names such as the Bankruptcy Helpline or the Insolvency Helpline.
The firm, Baker Evans, said it would appeal against the decision.
"We have disagreed throughout with the OFT's suggestion that the word 'helpline' infers free or government run," a Baker Evans spokesman said.
Misleading?
The OFT told Baker Evans that its proposed new trading names might mislead consumers into believing it was an "impartial" or "non-commercial" body.
"Consumers must be able to distinguish commercial debt management companies from free charitable or government services," said Ray Watson of the OFT.
"We will not agree to names that could mislead consumers into contacting companies when they might think that they are accessing free advice," he added.
However Nick Pearson, a director of Baker Evans, said that no-one would be confused by his firm's suggested names.
"We have disagreed with the OFT throughout our long running dispute. It is clear from our website that we are not free," he said.
'Most profitable'
The OFT decision flows from the threat it made in September to 129 debt management firms to change the way they carried out their business.
An 11-month investigation found that the industry was riddled with bad practices that damaged the interests of of debt-stricken customers such as:
advertising that their services were free when in fact a charge was demanded
milking customers for fees
giving poor advice
pretending to be a charity or a government body.
"In some cases, it appears that business models may be set up to take the maximum amount of money from a consumer regardless of their circumstances," the OFT said in September.
"Firms are not giving the advice or offering the solution that is in the best interests of the consumer, but instead that which is most profitable to them."
Baker Evans, based in Manchester, currently trades under various names such as the Bankruptcy Aid Group, Debt Resolution Group.co.Uk and Insolvency Aid.
The OFT made clear that its decision was not a censure of the firm and did not imply that it had broken the terms of its current consumer credit licence.