Young women facing a poor retirement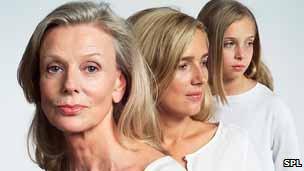 Many young adults are not saving enough for their retirement, figures have shown. But the earlier they start, the better off they could be - as this special report shows.
Young people are facing poverty in old age by turning their backs on saving for a pension.
Official figures show that the number of women aged 22 to 29 in the UK who are signing up for a workplace pension has fallen for four years in a row, marking the most rapid decline of any age group.
Pensions Minister Steve Webb has told the BBC that people are waiting "decades" after starting work before they consider how to pay for retirement.
And now experts are warning that a new scheme to ensure employees get into the savings habit will be insufficient and offer workers a false sense of security.
At the moment, more than half of the UK's single pensioners have a pension income of less than £10,000, the latest figures from the Office for National Statistics show.
The UK has an ageing population. By 2034, 23% of the population is projected to be aged 65 and over, up from 15% in 1984.
An estimated eight million workers have no pension provision, and face having to rely on the state pension - currently £5,078 a year - and benefits to pay for 20 years or so of retirement.
And it is workers aged under 30 who are the least likely to have signed up for a workplace pension scheme - generally the most generous pension policies. Fewer than 40% of men and women aged 22 to 29 contribute to a scheme offered by their employer.
For today's 20-somethings, pensions have fallen on the priority list as they face up to more pressing financial concerns.
"I am struggling to pay off debt and so at the moment every penny of my monthly salary is needed for rent, living and debt," says Kate Croxton, a 27-year-old charity worker from Sheffield.
"After my debts are cleared I think the focus at my age is to start saving to invest in property. This seems more relevant and urgent than a pension at this point in my life."
It has often been said that the only people aged in their 20s who think about pensions are those who sell them.
But Pensions Minister Steve Webb says he is concerned that complications, as well as poor awareness of pension system, has turned many young people away from thinking about how they will fund old age.
"Most young people starting in a job do not get around to thinking about pensions for decades," he says.
"When young, they think they will live forever, and pensions is something for their granny. There is a danger in thinking that your home will be your pension.
"None of us are expecting 20-somethings to become pension geeks, but what we do want is to demystify it, make it simple and ask the question - 'what sort of standard of living do you want when you are old'."
He also called on women especially to give it more thought.
"We want to make sure that more women have their own pension pot. In the past the pension system assumed that women did not need a pension they needed a husband," he says.
"That is a ridiculous notion now."
He believes that a new system that will automatically enrol people into a workplace pension scheme will get young people into a savings habit.
It will also tackle the dividing line between pension provision depending on people's choice of career, he says.
At present, workplace pension scheme take-up is more than 90% in public sector jobs such as public administration, defence and social security, compared with just 6% in shorter-term accommodation and catering work.
Those without access to a workplace pension, aged 22 or more and earning at least £5,715 a year, will be enrolled by their employer into an eligible scheme such as the National Employment Savings Trust (Nest) scheme.
Contributions from staff and employers will also be phased in. Until October 2016, the minimum overall level of contributions into Nest will be just 2%, with 1% coming from employers.
From October 2016 to September 2017, total contributions will be 5% with 2% coming from employers. From October 2017, the total minimum contribution level will be 8%, with employers contributing at least 3%.
Questions have been raised as to whether these contributions will be sufficient for an adequate standard of living in retirement.
The BBC asked actuary firm Barnett Waddingham to estimate how much a single man, aged 25, earning a relatively typical £26,000 a year could expect in retirement from the Nest scheme.
With investment returns of 7%, he could expect an annual pension of £8,870.
"The returns on a standard Nest savings plan may not be that great, even after 40 years of contributing," says Malcolm McLean, consultant at Barnett Waddingham.
"There is a risk that people will switch off and just save the minimum amount and think that is me sorted, I have got a pension plan, it is all in hand. We need to get it across that auto-enrolment and Nest might be just their starting point."
A report by the Royal Society of Arts, published this week, argues that the UK has an inadequate pension provision compared with the rest of Europe.
Although it welcomes Nest, it says that the scheme is being hamstrung during the early years of its existence by a limit on individual's contribution levels at about £3,600 a year.
Others argue that an entire change of culture is needed to make pensions affordable.
"What I find astonishing is that this good news story - that we are all living for longer - is becoming a bad news story that we are all going to be poorer," says Ros Altmann, director general of Saga.
"It does not need to be that way."
She says that people need to rethink the way they approach later life. This could mean working part-time during pension years.
Without adequate savings, many people may no longer have the choice other than to stay at work.
Related Internet Links
The BBC is not responsible for the content of external sites.