Debit card spending in UK overtakes cash for first time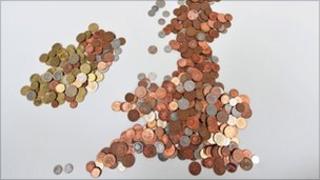 For the first time, UK consumers have spent more using their debit cards than with cash over the course of a year, data suggests.
Spending on debit cards reached £272bn in the 12 months to October, figures from the UK Payments Council show.
The statistics, released every three months, showed spending on cash stood at £269bn over the same period.
Credit card usage remained steady but there was a further decline in the number of cheques written.
August Bank Holiday spending on plastic meant debit cards overtook cash for the first time, the Council said.
"Cash is too cumbersome for many consumers these days - they prefer a card for anything more than the smallest transactions," said Sandra Quinn, of the Payments Council.
"We now expect our debit cards to be accepted everywhere we go - in pubs and clubs, at the corner shop, online and on the High Street."
Common
There were 1.6 million more transactions on debit cards every day between July and September compared with the same three months a year earlier, the Council said. The amount spent rose by almost 11%.
Withdrawals from cash machines dipped slightly during the same three months, and credit card usage has remained relatively steady.
Some experts suggest that technology will be developed that allows the chips currently used in debit cards to be placed in everyday items such as mobile phones - further accelerating non-cash payments.
But historically, lower-income families have argued that they find it easier to budget using cash.
Cheques
The figures also chart the further decline of cheques with 104 million fewer written in the UK in the 12 months to October, compared with the previous year.
The Council has recommended that cheques be phased out by 2018, but only if adequate alternatives were developed.
But this has been met with a degree of backlash by some MPs and consumer groups.
Last month David Ward, the Liberal Democrat MP for Bradford East, launched a campaign to save the cheque saying its potential demise was a "cost saving exercise for the banks".