Rural areas face challenges to eradicate extreme poverty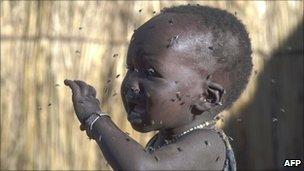 Some 350 million people living in rural areas were lifted out of extreme poverty in the past decade, according to The Rural Poverty Report, published by the International Fund for Agricultural Development (IFAD), a United Nations (UN) agency.
However, in spite of this, more than a billion people around the world still continue to suffer.
The UN describes extreme poverty as living on less than $1.25 (80p) a day.
But factors such as human development, a lack of basic needs, vulnerability, livelihood, unsustainability and social exclusion are also considered in the report, which reflects on rural areas across the world and the implications for global food security.
The last report came out in 2001 but, according to IFAD's president Kananyo Nwanze, ideally it should come out more frequently.
"You shouldn't have to wait 10 years for a report of this nature," he says.
The report highlights how 70% of the world's very poor live in rural areas, while households engaged in the non-farming labour market are less likely to be chronically poor.
There have been dramatic improvements in east Asia, particularly China, but there are big differences in the way in which rural areas are governed, making it easier to adopt certain policies in some parts of the world but not in others.
"The situation is bad in Africa, while south Asia remains home to half of the world's poor people," Mr Nwanze says.
It also explains how it is increasingly difficult for the poor to build better lives for themselves and their families.
The rural poor and smallholder farmers are vitally important in ensuring the world's food needs are met.
It is estimated that food production must increase 70% in the next four decades to feed a projected population of nine billion.
The challenges of addressing rural poverty, whilst also feeding a growing world population in the face of increasing scarcities of land and water and further climate change, are profound.
To make sure it happens, governments must develop their agricultural sectors and ensure more is invested in rural communities.
"In Africa food production will have to double," says Mr Nwanze.
It might seem an insurmountable obstacle, but currently farmers in Africa do not make adequate use of new technologies, irrigation facilities, he says. Moreover, their use of fertilisers is low or non-existent.
"An increase in food production cannot be achieved by expanding the land we use," he says, "but by intensified agriculture."
Meanwhile, domestic food markets are expanding rapidly, especially in China and India, and this offers new economic opportunities for farmers.
Growth in agriculture usually generates the greatest improvements for the poorest people, particularly in farming communities.
Furthermore, in all areas, whether rural or urban, the proportion of the population who are of working age is increasing, and that could create conditions for higher economic growth.
Households fall into poverty for a number of reasons, including ill health, poor harvests, conflicts and natural disasters.
Impoverished people have less chance of getting out of poverty because they have fewer assets to sustain them in times of inflicted hardship.
When hardship does occur, they resort to selling what assets they have and incurring debt.
One of the major expenditures which is cut back is children's education. In turn, this leaves the poor more vulnerable to future problems.
Certain members of a community, particularly youth, indigenous people and ethnic minorities, often find themselves more disadvantaged than others.
"Climate change is an additional risk that farmers face," says Mr Nwanze.
After the shock of food prices rocketing since 2006, a number of initiatives have taken place to ensure food safety.
This has included some nations buying agricultural land in other countries, and developing efforts help to farmers mitigate and adapt to climate change.
Mr Nwanze says particular emphasis should be placed on helping women, who make up 60-70% of the farming community.
"Woman should have access to financial services and land rights and they should be empowered to make better use of the resources," he says.
But rural investment still remains below the levels deemed necessary to really create a momentum of significant change, the report reasons.
There also has to be a concerted effort to educate the poor about risk management, to diversify their crops and to invest in other income-generating activities.
This has to be coupled with supporting social protection programmes, better infrastructure, a ready access to markets for their goods, and a range of financial services.
The future environment for agriculture needs to respond not only to the new challenges it faces, but also to the social changes it will incur, the report says.
Furthermore, there will have to be a change in the attitude of the people who purchase agricultural products.
There will need to be a greater effort to ensure an awareness of the impact that businesses and society has on the environment, the need for greater control of land and water resources, and the willingness to pay more for the produce they consume.
A global phenomenon is that more and more youth are unwilling to become farmers, according to the report.
As they become better educated, they move into the cities to seek work.
People want access to quality services and profitable opportunities to enable them to participate in economic growth, whether it is is agricultural production or non-farming enterprises such as energy generation.
The key challenge in alleviating poverty is to encourage households to rely less on farming to meet their needs.
Paradoxically however, that shifts people away from the land at a time when more food production is needed.
Smallholder farmers, small enterprises, governments and large multinational corporations investing in the agro-food chain, all need a concerted approach to improveme the livelihoods of those one billion people living in extreme poverty, the report says.
Related Internet Links
The BBC is not responsible for the content of external sites.