'Retirement just seems so far off'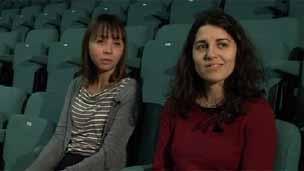 Drama graduate Sheena Khanna has not even started thinking about pensions. There are so many other things to save and pay for.
The softly-spoken box office assistant from Surrey lists rent and student loan payments as her top priorities for any spare cash she may have.
"Retirement just seems so far off. I am 24 and it is 40 years until it is going to be relevant to me. There are so many other things that I'm concerned about trying to pay off that it is just not on my radar," she says.
Sheena is not alone. According to figures from the Office for National Statistics (ONS) only 38% of employed women aged 22-29 are members of a work-based pension scheme.
And with women living longer than ever before, the average life expectancy is now more than 20 years on from state retirement age, are today's women saving enough to ensure a comfortable retirement?
Tina Watkin, a 66-year-old from Yorkshire, has spent her life juggling part time jobs whilst bringing up her children.
She has clocked up hours as a lollypop lady, a barmaid and a driver. She has also earned money from selling coats and taking part in market research. But despite all these jobs she does not have an occupational pension and gets by on a weekly income from her state pension topped up with Pension Credit.
"A year before I retired I put in for a pensions forecast and it came back at £53 a week. I could not believe it. I feel totally sick that I never realised it before," she says.
To make ends meet she has to live frugally and think carefully about all expenditure. Only by keeping a very close eye on her outgoings can she afford to pay the bills.
She feels bitter about the lack of pensions advice and blames this for the situation that she is in.
"It makes you feel angry, I was a hard worker and I paid my taxes. I never saw any adverts in magazines or on the television, but when you are paying National Insurance through your work it would be nice if you were given some advice," she says.
"I just did not have time to think about it."
But Sarah Pennells, from money website Savvywoman.co.uk, thinks it is important that women do think about pensions as soon as possible.
"Don't think of saving as depriving yourself of money today but giving yourself options for tomorrow," she says.
"Ask yourself if you want to live on £20 a day when you retire, which is what the state pension is likely to be worth. If the answer is 'no', then you will have to save for your retirement."
The state pension scheme has not provided all women with a full pension once they reach the age of 60. Until recent changes by the coalition government, both men and women had to have 39 qualifying years of paying National Insurance contributions in order to claim the maximum basic state pension.
Some women found that they were not entitled to a full pension payment because they had not built up enough qualifying years. Like Mrs Watkin, they may have spent some of those years working part-time or not working at all, perhaps because they were bringing up children.
A recent report by Scottish Widows claims that two thirds of pensioners living in poverty are women.
"Women are definitely the poor relations when it comes to pensions," says Ros Altmann, director-general of Saga.
"They tend to earn less, they work for fewer years, they have more years out of the workforce, and if you are not working you cannot do any saving.
"They may not have a husband to rely on as perhaps they might traditionally have done. Women need to make sure they are planning their life so they do not end up in dire straits."
Many companies offer a workplace pension scheme that is open to employees. Typically, an employee contributes a percentage of their salary, the company contributes a further percentage, and there is an element of tax relief. Any income from these schemes would be in addition to a state pension once retirement age is reached.
Sheena Khanna's sister Mohini, 27, is a research assistant and decided to join her company's pension scheme after a visit from a broker.
"I am contributing the same amount as my employer and it comes out of my pay packet automatically, I chose to do it that way because I can afford it at the moment. I do not have to think too much, it just happens every month," she says.
"If you are just on a state pension it is quite a meagre amount, it is not enough to live on if you do not have supplementary savings or a private pension."
However, the latest figures from the Office for National Statistics show that between 2005 and 2009 women aged 22 to 29 experienced the biggest fall in pension scheme membership.
Sheena is not sure how much money she will need to fund her retirement dreams of travelling and spending time with her family.
"It is hard to grasp how much money you will need to have saved to take you through your life," she says.
She thinks around £20,000 or £30,000 a year might be enough.
That is more money than Tina Watkin can dream of having in her retirement. Her pension amounts to just over £6,800 a year - and she has some advice for Sheena.
"Speak to someone who is a professional and knows about pensions. If I had known sooner how much money I would end up with I would have done something," she says.
The amount Mrs Watkin lives on is a shock to Sheena.
"That is very scary when it is put like that, it is quite worrying," she says.
But is it enough to get her thinking about saving for old age?
"Yes, it probably is," she says.
Related Internet Links
The BBC is not responsible for the content of external sites.