De La Rue gets takeover approach from France's Oberthur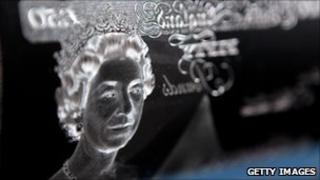 A French banknote firm has confirmed that it approached the board of UK rival De La Rue last month with a view to making a cash offer for the firm.
De La Rue's shares jumped more than 30% to as high as 858 pence after it said it had received interest from an as-then unnamed company.
Oberthur said its proposed offer was for 905 pence per share but the board had refused to enter into discussions.
De La Rue described the approach as "highly preliminary and opportunistic".
The French firm said: "The Board of De La Rue said it was unwilling to enter into substantive discussions on the basis that, in its opinion, the Oberthur proposal fails to recognise the fundamental value and future prospects of De La Rue's business."
But it added that it hoped that the board would change its mind and agree to begin talks so that it could "agree a basis for the Board of De La Rue to recommend an offer".
The proposed deal would value De La Rue at about £900m ($1.4 billion; 1bn euros). Oberthur said it hoped any offer would "provide the catalyst for restoring the company's reputation".
Shares in De La Rue have fallen more than a third since it revealed production problems at one of its plants in July.
'Materially lower'
De La Rue has been thrown into turmoil since identifying a production fault at its Overton factory in July, prompting its chief executive to resign.
The company has been without a head since the resignation of James Hussey in August, after the firm admitting that 2010-11 paper production and sales would be "materially lower" as a result of the production errors.
Mr Hussey's replacement is expected to be Tim Cobbold, previously the head of business power company Chloride Group.
The problems came to light shortly after De La Rue signed a five-year extension to its exclusive contract to print banknotes for the Bank of England.
Two weeks ago, the company confirmed that pre-tax profits before exceptional items had more than halved to £23.8m, while sales fell 17% to £209.2m, in the last six months.
De La Rue, founded in 1813, prints notes for the Bank of England and 150 other countries.
Oberthur Technologies was formed in 1984 by its majority-owner and chief executive, Jean-Pierre Savare, when he took over the secure printing activity of the Oberthur printing works, which was originally founded in 1842.