Madoff trustee sues HSBC for $9bn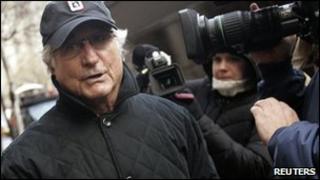 The trustee for the liquidation of Bernard Madoff's investment firm is suing HSBC for $9bn (£5.7bn; 6.8bn euros).
Irving Picard, who is seeking to recover funds on behalf of Madoff's victims, is alleging 24 counts of fraud and misconduct against the bank.
He alleges that HSBC aided Madoff's scheme through the creation of a network of international feeder funds.
HSBC said it was defending itself "vigorously" against the claims.
In the complaint filed on Sunday in the US, Mr Picard named other defendants in the filing, including the management companies and providers of the feeder funds.
The complaint alleged that the defendants were well aware of the signs of fraud that were already circulating around Bernard L Madoff Investment Securities (BLMIS).
The complaint said that HSBC had twice asked accountants KPMG to identify concerns with BLMIS, and KPMG twice reported serious risks already known to HSBC.
"Had HSBC and the defendants reacted appropriately to such warnings and other obvious badges of fraud... the Madoff Ponzi scheme would have collapsed years, billions of dollars, and countless victims sooner," said Mr Picard.
"The defendants were wilfully and deliberately blind to the fraud, even after learning about numerous red flags surrounding Madoff."
An HSBC spokesman told the BBC: "HSBC is defending itself vigorously against Madoff-related claims that have been brought against it in various jurisdictions around the world, including class actions in the United States,"
"HSBC believes that the US court appointed trustee's claims of wrongdoing are unfounded and it will defend itself against these claims as well."
The other defendants include former Austrian lender Bank Medici, and Italian bank UniCredit.
The lawsuit was filed days before the two-year expiration of the trustee's mandate.
It follows similar suits filed against banks JP Morgan Chase and UBS.
Bernard Madoff admitted defrauding thousands of investors through a Ponzi scheme, which paid out using new investors' money rather than from any profits.
The scheme, which had been running since the early 1990s, unravelled when Madoff's investors tried to withdraw about $7bn at the height of the economic downturn. Madoff could not produce the money.
Madoff is serving 150 years for the fraud.