Shoppers stayed away during cold snap, surveys suggest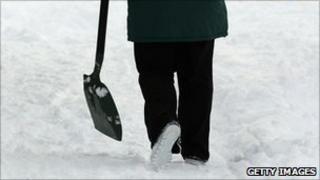 UK High Street sales were dented by the cold snap last week, research suggests.
The impact was worst mid-week, when shopper numbers fell 12-17%, according to research firm Experian FootFall.
The pattern was confirmed by John Lewis, which said that its strong sales growth had stalled last week, as the cold weather put customers off.
However, the retailer said store sales then picked up strongly at the weekend, while online sales rocketed 62% last week, compared with a year earlier.
The drop-off in shopper numbers was worst in parts of the UK with the heaviest snowfall, according to Experian FootFall, with Scotland down 27%, the North East of England down 38% and the Yorkshire and the Humber region down 34%.
'Nervous retailers'
With lower visitor numbers, sales growth at high street stores also slowed markedly in November compared with last year, according to accountancy firm BDO.
"The weather has put people off shopping," said BDO's head of retail, Don Williams.
"Retailers will be nervous, but the fact we've had this snowfall at the end of November rather than mid-December means they won't have to panic discount."
The company said that fashion sales rose a modest 2.8% at a time when customers typically stock up with winter clothes, while gift sales were the worst hit sector.
John Lewis confirmed the prediction, claiming Saturday 4 December was one of its busiest days of the year as the thaw first set in across parts of England.
Hot chocolate
The winter weather also affected the sales mix, with John Lewis reporting a 78% rise in instant hot chocolate sales at its Waitrose stores, and a seven-fold increase in de-icers, compared with a year ago.
At DIY retailer B&Q, sales of shovels rose 90% versus the previous week, while grit sales were up six-and-a-half times.
Meanwhile, internet sales began their pre-Christmas surge on Wednesday.
However, the rise in online sales could have been partly down to workers receiving their November pay-cheques, according to research firm IMRG.
"While the rise in online activity could have been influenced by the recent weather conditions, it is very difficult to tell as it has coincided with the festive shopping period accelerating and the beginning of a new month, when traffic generally rises," said the company.