Desire Petroleum shares fall as oil firm strikes water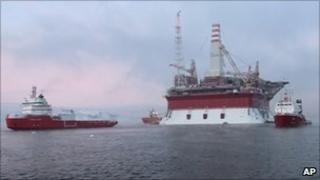 Shares in Desire Petroleum have slumped almost 50% after the explorer said a key drilling prospect off the Falkland Islands contained mostly water, not oil.
Only last week the company had said that it was optimistic that the well contained hydrocarbons.
But further analysis of deposits showed that the Rachel North well in the North Falkland basin contained mostly water.
Desire's shares, which reached 170p in October, ended down 66p at 67.25p.
Last Thursday Desire said it believed it had made only the second ever oil discovery off the North Falkland basin. Rockhopper, another explorer, made the first at its Sea Lion prospect in May.
"Preliminary data collected indicate that this well is an oil discovery," Desire said last week. The company's shares rose 25% on the news.
But Desire said on Monday: "However, sampling of the main sand has shown that the hydrocarbons are residual and that the mobile fluid is water." The well will "be plugged and abandoned".
"This is a major blow to Desire and the prospectivity of the North Falkland Basin," said Evolution oil analyst David Farrell.
The news comes after initial optimism earlier this year that exploration off the Falklands would could spark an oil and gas boom.
Last week media reports said that ExxonMobil, the world's largest oil company not owned by a government, had decided that the islands contained insufficient hydrocarbons to make exploration and development profitable.