Lloyds boss rejects calls to break up UK banks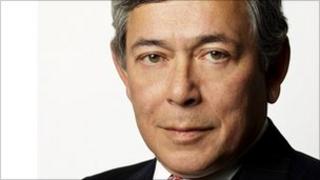 The UK's banking sector is already "enormously competitive" and banks do not need breaking up, the boss of Lloyds Banking Group has said.
Eric Daniels, Lloyds' chief executive, added in his testimony before the Treasury Committee, that "concentration does not lead to lack of competition".
He said the "great majority" of Lloyds' customers were satisfied, and denied that banks overcharged customers.
The Treasury Committee is investigating competition in the banking sector.
Mr Daniels has led Lloyds Banking Group since January 2009 when it was established following the merger of Lloyds TSB and HBOS.
The government currently has a 40% stake in Lloyds, as a consequence of the bank requiring a bail-out, which took place at the start of 2009.
Global comparison
Responding to criticism from members of the Treasury Committee that four banks - Lloyds, Barclays, HSBC and RBS - have a 73% share of the UK current account market, Mr Daniels said this compared well with the international picture.
"I think if you look at the concentration in the UK market, it is in fact less than many markets," he said.
"If you looked at countries such as France, Australia and Canada you would find even greater concentrations."
Mr Daniels added that while the US was often given as an example of a country with a large number of different banking providers, he said this was not the case on a state-by-state basis.
"If you looked in California for example, the concentration levels there would be higher than in the UK."
He added that in the UK there were 60 different mortgage providers, 30 in the current account market, and 80 for savings accounts, concluding that this represented a "wide variety of players".
When questioned on the fact that Lloyds charges up to 19.3% for unauthorised overdrafts, Mr Daniels said this "did not provide a particularly high return".
He said this was because the bank had to cover the cost of raising its own funds, covering losses caused by some overdrafts, and assorted administration fees.
Mr Daniels also denied that it was difficult for customers to switch their bank account provider.
EU barrier
The study by the Treasury Committee comes as the Independent Commission on Banking is continuing to explore the idea of reforming the banking sector, including the possibility of breaking up banks into their retail and investment banking arms to reduce risk.
BBC business editor Robert Peston said that this "might be impossible" without agreement from the European Union.
He said this was because the big UK banks were likely to be able to get around any government move to break them up by relocating their headquarters to another European Union country.
RBS chief executive Stephen Hester told the Treasury Committee that the size of UK banks was a "red herring".
He said this was because what mattered was how well a particular bank was run, and not how large it was.
Mr Heston also said he would welcome the eventual sale of the government's 80% stake in his bank.
He said: "I think it would be a symbol of Britain's recovery, it would help the public purse, it would be a symbol of RBS's recovery, and it would help both sides."
Data row
In written submission to the committee, Tesco Bank - a subsidiary of the supermarket giant - had accused the larger banks of sharing some customer data.
It wrote: "The established banks routinely share current account data... through a closed user group".
Appearing before the group of MPs, RBS's head of UK retail Brian Hartzer denied that this was the case.
He said: "As far as I'm aware there is no sharing of credit data amongst the big banks, other than via the credit bureaux who make that data available to people."