EU to start new bank stress tests in February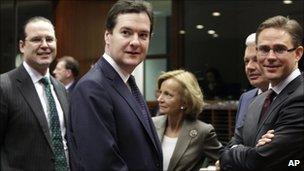 EU banks will have to face a second, tougher round of stress tests from February next year.
EU Monetary Affairs Commissioner Olli Rehn said the new tests would be "more rigorous and even more comprehensive".
The decision came at a meeting of EU finance ministers and officials, which concluded the eurozone was on its way to economic recovery, but that the financial sector was still troubled.
There was no decision to increase the size of eurozone support.
On Monday, ministers from the 16-country strong eurozone said that the existing safety net of 750bn euros (£635bn, $1tn) was large enough, and praised both Portugal and Spain for the steps they were taking in getting their economies in order.
Some fear that the existing fund would be overstretched if countries such as Spain and Portugal followed Greece and the Irish Republic in asking for help.
On Monday, the head of the International Monetary Fund, Dominique Strauss-Kahn, had called for an increase in the size of funds available for support.
And on Tuesday, following the end of the ministers' meeting, he criticised Europe's response to the eurozone debt crisis.
Speaking from Athens, where he was attending a meeting with the Greek prime minister, Mr Strauss-Kahn said: "The eurozone has to provide a comprehensive solution to this problem. The piecemeal approach is not a good one."
Tuesday's meeting of EU ministers also approved an 85bn-euro bail-out package for the Irish Republic that had been informally agreed last month.
The meeting also approved the conditions on which the aid to the Republic has been granted and the extension of the deadline for Dublin to bring its budget deficit below the EU ceiling of 3% of gross domestic product (GDP) to 2015, from 2014.
Some eurozone members have called for the creation of a eurozone-wide bond, which would seek to address the problem of the spiralling borrowing costs that have affected some countries and made it very difficult for them to access much-needed funds on the open markets.
However, Germany and Austria are opposed to such a bond.
Austria's finance minister, Josef Proell, said: "I'm very critical of the euro bond idea. We have enough instruments in place to stabilise countries. Look at Ireland."
But earlier on Tuesday, Portugal's Treasury Minister, Carlos Pina, said one was needed.
"Lately there has been increasing voices talking about this issue," he said. "This is an absolutely fundamental issue."
But he also said that his country would resolve its problems on its own and should not consider asking for the sort of help asked for by Greece and the Irish Republic.
"There is no justification to even consider any foreign aid," he told reporters.
Related Internet Links
The BBC is not responsible for the content of external sites.