Arrests in Crown Currency Exchange inquiry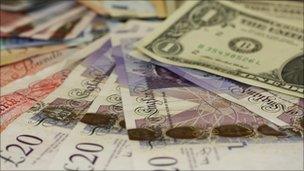 Police have arrested two former directors of the collapsed foreign exchange company Crown Currency Exchange.
They are understood to be Peter Benstead and Edward James, who is a Conservative councillor and former Mayor of Glastonbury.
The men, aged 68 and 70, were expected to be interviewed by police later.
The exchange firm, based in Hayle in Cornwall, collapsed in October owing customers more than £16m.
Devon and Cornwall Police said the inquiry was expected to last several months and urged those who had lost out not to contact officers at present.
Crown Currency Exchange, which was established six years ago, allowed individuals and business customers to pre-order foreign exchange at a set price up to a year in advance.
It provided money in 80 different currencies, as well as travellers' cheques and money transfers, sometimes for people to buy property.
The police inquiry centres on the actions of the directors of Crown Currency Exchange and Crown Holdings (CCE).
Officers from the economic crime department of Devon and Cornwall Police searched a number of addresses in Cornwall and Glastonbury on Tuesday.
"It is expected that this will be a protracted inquiry that may take many months. It is anticipated that there are approximately 13,000 victims," said Det Insp Paul Bean, from Devon and Cornwall Police serious and organised crime branch.
"Police are liaising with both MCR, the administrators responsible for the affairs of CCE, and the Crown Currency Action Group in order to obtain contact details of these victims."
He said officers would contact those who had reported losing money in due course.
There has been some criticism of the level of financial regulation of Crown Currency Exchange, and how the public were informed about this, prompting discussions in Parliament.
A debate is being held at the House of Commons about authorisation of firms with the City watchdog, the Financial Services Authority.
Liberal Democrat MP Tessa Munt, who is leading the debate, told the BBC that there was "chaos" involving what people understood about the regulator's logo.
She said that consumers got a "false sense of security" from it.
Related Internet Links
The BBC is not responsible for the content of external sites.