UK energy bills are likely to rise, say energy bosses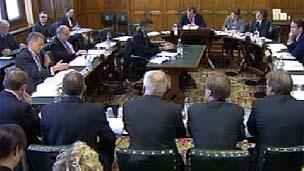 Bosses of the UK's leading energy companies have told a committee of MPs that bills are likely to rise in years to come.
They told the Energy Committee that the "inevitable direction of wholesale prices" meant domestic bills would get more expensive over the next decade.
Five of the big six energy suppliers were represented at the House of Commons committee.
One suggested that prices could rise by between 15% and 25% by 2020.
The group of companies argued that the energy market was still competitive and profit margins were volatile.
Bosses of British Gas, EDF Energy, E.On, Npower and Scottish and Southern Energy appeared before MPs.
They were called to give evidence after some had raised prices for domestic customers this winter.
Phil Bentley, of British Gas, said that higher wholesale prices and distribution charges were likely to push up the cost of domestic bills in the next decade. He quoted the 15% to 25% price rise, predicted by Ofgem, by 2020.
They all pointed to the "fundamental issue" of energy efficiency measures being key to cutting domestic use of gas and electricity, and - in turn - this would cut bills.
Mr Bentley said that private landlords should be encouraged to make their homes more energy efficient.
Energy efficiency had reduced gas use, which also affected businesses' profits, said Alistair Philips-Davies, energy supply director of Scottish and Southern Energy.
This had called into question figures published recently by watchdog Ofgem that put the net profit margin per each typical customer at £90, a 38% rise since September.
Lower consumption meant the figure was closer to £60 per dual-fuel customer, he told the committee, and this would be "substantially lower" by March.
The energy companies said that the high number of people who switched suppliers showed that the energy market was competitive.
"The market in the UK is delivering the lowest prices for gas in western Europe," Mr Bentley said.
He also said that none of 17 inquiries into the market since 2001 had provided any evidence that companies were slow to pass on reductions in prices to their customers.
They said they also provided a range of campaigns on insulation and energy efficiency, as well as help for those struggling with bills.
The energy companies were also keen to accelerate the decision on the introduction of smart meters. These meters offer real-time read-outs of energy use and costs.
The bosses were also quizzed about cold-calling sales of energy on the doorstep and in the street, as well as the "mystifying" aspect of tariffs, and social funds for vulnerable customers.
Related Internet Links
The BBC is not responsible for the content of external sites.