Uruguay students in stock market smash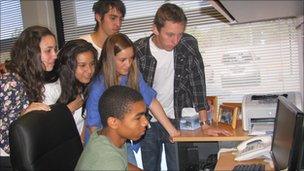 For secondary school pupils in Uruguay, it was supposed to be a hands-on experience in the world of finance.
It turned out to be a lesson that would benefit many, Wall Street analysts included.
With $10,000 seed capital in hand, supplied by their professor of economics, two groups of 17 and 18-year-olds invested in stocks, obtaining an annual return of 42.5%.
"Any hedge fund manager in the world would kill for those results," said John Younger, a Canadian national who worked in finance for 17 years in Canada and New York, before moving to Uruguay two years ago.
According to one of the schoolchildren, Jean Paul Deletraz, the key to their success is simple.
"We are out there on the market, we understand the trends, what is cool or not, more than Wall Street bankers who spend their days behind their desks, away from reality," he says.
The professor and students acknowledge there was some luck involved, and they made some safe bets in big "apparently" stable stocks such as oil companies.
But for the most part, they put their money into companies they like and products they consume.
They invested in Apple, because they all have iPods, and in Research in Motion (RIM) the company that produces the Blackberry device, because they saw it as a symbol of status.
The girls at one of the schools wanted to invest in apparel company Abercrombie & Fitch (A&F), in spite of their teacher's warnings that it was a risky bet.
Mr Younger explained to them that global discretionary spending, particularly on high-end clothes, was feeling the impact of the economic recession.
"They said: 'If you go to New York, there's a line up around the block.' Sure enough, when A&F came up with their September earnings, they completely beat expectations," he said.
"All the analysts didn't get it. They look to the big picture numbers and were looking at the traditional economic concepts and not taking into account the common-sense, ground-level approach that students naturally have."
Mr Younger said the students did not invest merely in high-end products.
"I told them, 'When you brush your teeth, do you like the taste of the toothpaste? Is it better than any other toothpaste?' If so, find out the company that makes it, maybe you should invest in it."
The teacher's aim was to give the students an insight into the real economic and financial world, but the experiment went further than expected.
"Economics is a little bit dry. I wanted to give the students a little something that will force them to be immersed in the real world," he says.
"I thought the best way to do that was to have them invest in stocks with real money."
That way, Mr Younger says, the students "get excited when the stock goes up - and when it goes down, they feel a bit of stress".
"Which is OK, because they are thinking hard on how the companies they are investing in work, why they are successful, why they are not successful, not just in an abstract way but in a real-world way."
Pupils at the British Schools and the Uruguayan-American School held two $10,000 portfolios for the year.
"The extraordinary thing is that all the portfolios have been outstanding for the equivalent of 21 months and the return in those 21 months was just around 70%. If you annualise that, it works out to be 42.5%," Mr Younger explains.
All the profits were given to charity. For student Serrana Borches, "It feels good to know that next year, rural schoolchildren will have new classrooms with the money we made on the market."
Some of the pupils enjoyed their experience so much, they are now considering pursuing a career in finance.
Although that is not the case for Serrana, she feels she learnt a lesson that will be valuable for life, breaking into a world that seemed threatening and faraway.