Russia's WTO membership bid backed by European Union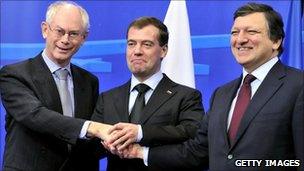 The European Union (EU) has thrown its weight behind Russia's bid to join the World Trade Organisation (WTO).
The EU gave its formal support after Russia agreed to cut timber export tariffs and rail freight fees.
Russia is the only major economy that is still not a member of the global free trade club.
"After the signing of the agreements... Russia's accession to the WTO becomes a reality," said Russian President Dmitry Medvedev.
The agreement was signed by EU Trade Commissioner Karel De Gucht and Russian Economic Development Minister Elvira Nabiullina, meeting at a bilateral European-Russian trade summit.
It ends a 17-year wait for Russia, who first applied to join the organisation's predecessor - the General Agreement on Tariffs and Trade (Gatt) - under President Boris Yeltsin.
The European Union president, Jose Manuel Barroso, said the agreement marked a "milestone" in relations and paved the way for Russia to join the WTO next year.
He said the move would benefit both Russia and the WTO by strengthening trade and investment rules in Russia and improving business opportunities for EU companies.
EU trade with Russia currently accounts for 6% of the EU's exports and 10% of its imports.
The two sides failed to reach an agreement on visa-free travel. Russia is in favour of it but the idea has met resistance in the EU.
Related Internet Links
The BBC is not responsible for the content of external sites.