German trade surplus narrowed in October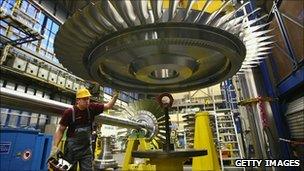 Germany's trade surplus shrank in October after exports fell and imports rose, official figures show.
Allowing for seasonal swings, exports fell by 1.1% to 83.3bn euros ($110bn; £70bn) while imports rose 0.3% to 69.1bn euros.
The Federal Statistics Office figures show that October's trade surplus narrowed to 14.3bn euros from 15.4bn euros in September.
The German economy has been growing faster than other eurozone nations.
Germany suffered its biggest post-war recession in 2009 when its economy shrank by 4.7%, but its recovery has been faster than expected.
Other recent data showed German business confidence in November was at its highest level since reunification.
The Ifo Business Climate Index climbed to 109.3 in November, up from 107.7 the previous month, defying analysts' predictions of a slight fall.
Related Internet Links
The BBC is not responsible for the content of external sites.