FSA says failed bank bosses could have pay clawed back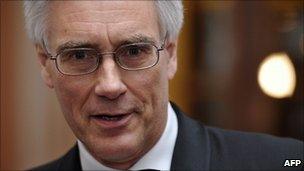 The bosses of failed banks could face having two years' pay clawed back from them, the chairman of the Financial Services Authority (FSA) has said.
Lord Turner told the BBC's business editor, Robert Peston, that he was attracted to imposing such a sanction.
He said the rule - which is already in place in the US - would discourage banks from taking excessive risks.
His comments come after Vince Cable attacked the FSA for not releasing its report on Royal Bank of Scotland (RBS).
Mr Cable has written to Lord Turner to demand details of the investigation into what went wrong at RBS, which the government had to bail-out in October 2008. The government currently holds an 80% stake in the lender.
Lord Turner told our business editor that he was open to the idea of publishing such reports in the future, but that its study on RBS was difficult to publish because the investigation was broken down into separate parts.
The FSA was widely criticised for saying that its review of RBS had found no grounds for punishing the banks' senior directors at the time, or the company itself.
The financial watchdog's investigation of RBS was carried out by its enforcement department.
It separately looked at a number of issues, ranging from RBS's ill-timed decision to buy Dutch bank ABN in 2007, to the control mechanisms in RBS's markets division, and whether it gave investors accurate information.
Our business editor added that a reliable source told him that the complete file on RBS could only be turned into a publishable document "if a team of four or five officials were put to work full time on the project for six months".
Lord Turner further considers that the biggest lesson from the crisis at RBS and other UK banks was that banking directors should never take the kind of risks that may be appropriate in other business sectors.
In addition to the idea of forcing failed bank bosses to pay back some of their remuneration, Lord Turner argues that in some cases they could be automatically disqualified from working in the banking sector.
The FSA is further exploring whether the burden should no longer be on it to prove that bank bosses have broken laws or rules.
Instead, it wants bank directors to have to demonstrate that they have taken steps to avoid excessive risk taking.
Related Internet Links
The BBC is not responsible for the content of external sites.