Low customer satisfaction ratings for energy companies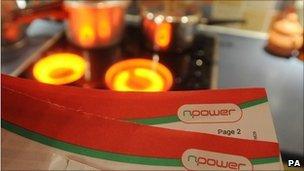 Energy companies' customer service has been criticised after three major suppliers scored badly in a consumer watchdog's analysis.
Three of the big six energy suppliers were awarded two stars out of five in a new complaints league table published by Consumer Focus.
Scottish Power, Npower and EDF were at the foot of the table, with Scottish and Southern Energy ranked the highest.
Industry body Energy UK said satisfaction levels had been improving.
The rankings, which have been published for the first time, took into account the number of complaints made to the official watchdog, a government-backed helpline and the energy ombudsman about each energy company. This was averaged out to take into account the number of customers they had.
It also considered the severity of complaints - which are dominated by disputes about bills - and how quickly they were resolved.
Complaints from customers that proved to be unjustified were factored out of the results. The analysis covered complaints made from July to September 2010.
All this was then translated into a star rating out of five. Scottish and Southern was awarded four stars, followed by British Gas and E.On with three stars, and Scottish Power, Npower and EDF Energy with two stars.
"Having three suppliers languishing on just two stars is a pretty miserable state of affairs," said Mike O'Connor, chief executive of Consumer Focus.
He said that the difference between the companies was "stark", given that they sold the same product and operated under the same rules.
"Good service is really important to customers, and people want the truth about complaints so that they can make informed choices when deciding whether to switch," he said.
Energy UK, which represents the major suppliers, said the energy firms had co-operated with Consumer Focus on the review, and their operations were improving.
"In a competitive market, all energy companies take customers service extremely seriously. In independent surveys, customer satisfaction levels have markedly improved in recent years," said director Christine McGourty.
A spokesman for Scottish and Southern Energy, which topped the chart, said: "We are committed to treating our customers like family. The new rankings are based on the most comprehensive complaints data available so it is great news."
Npower, which finished joint bottom, said they had halved complaints in the last year, after investing heavily in how they dealt with customers.
A spokesman for EDF Energy said it was also investing in complaints handling and was "always looking for ways to improve".
In the year to April 2010, the big six energy companies received 4.6 million customer complaints.
Many complaints surround estimated bills, which could become a thing of the past when smart meters - which give accurate, real-time read-outs - are introduced in the UK.
Related Internet Links
The BBC is not responsible for the content of external sites.