Mobile phone roaming fees 'unjustifiably high', EU says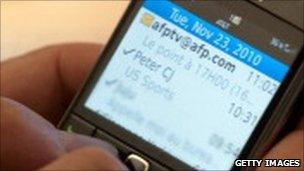 Phone companies are maintaining "unjustifiably high margins" on charges for using mobiles while abroad, the European Commission has said.
It imposed a cap on the cost of calls, texts and data downloads this summer.
The phone companies said they had been "diligent" in meeting these rules and were introducing better offers.
But the commission said the market was still uncompetitive and launched a consultation aimed at quickening the speed at which roaming charges fall.
The European Commission wants firms to remove the difference between roaming and national tariffs by 2015.
The cap was meant as an interim measure to encourage companies to lower prices towards that target, which was announced in May.
But the Commission, which regulates telecoms services within the European Union, has said that companies were still charging close to that limit.
The Commission has asked for suggestions on how to improve matters and is seeking the views of consumers and businesses on how to reach its target of a flat charge for phone usage within the 27-EU countries.
The target applies to prices for voice calls, text and data services.
Data-roaming bills for travellers have been automatically limited since July to 50 euros (£42.30, $66.09) a month to avoid huge bills being run up.
Roaming voice call costs have been capped at 39 euro cents a minute (excluding VAT), while the cost of receiving a call while travelling cannot exceed 15 euro cents a minute.
The GSMA, which represents mobile phone companies across Europe, said companies had delivered what it described as "sometimes technically complex provisions".
It also said members had "been responding to customer demand and competitive pressure by introducing increasingly attractive and innovative data roaming offers".
The consultation will run until February next year and will provide a basis for a review of current EU roaming rules which the Commission will present to the European Parliament and Council by June 2011.
The EU's Digital Agenda Commissioner, Neelie Kroes, said in a statement. "We need to address the source of current problems, namely a lack of competition, and to find a durable solution. But we are keeping an open mind on exactly what solution would work."
Related Internet Links
The BBC is not responsible for the content of external sites.