Pension inflation changes will not be forced through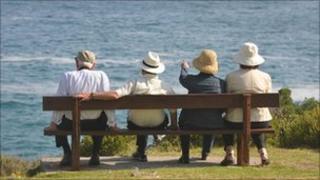 Ministers have backed away from forcing company pension schemes to use the Consumer Prices Index rather than the Retail Prices Index to uprate pensions.
Such a change would have cut the value of people's pensions because they would have grown more slowly than before.
The change has already been introduced for the state and public sector schemes from next April.
But Pensions Minister Steve Webb said he would not force private sector pension schemes to do the same.
"We do not plan to grant schemes a modification power, to make it easier to use CPI where they do not already have the power to amend scheme rules," Mr Webb told MPs.
"We believe that members' trust in schemes and the scheme rules would be severely damaged if we intervene to give schemes the power to change their rules if the scheme does not already have such a power."
Public sector
The possibility of such an enforced change was raised in July when, in the wake of the new public sector pension policy, Mr Webb said he wanted private schemes to adopt the CPI for their own inflation uprating.
However, current pension law largely prevents employers and scheme trustees from changing their rules to cut the value of pensions that have already been accrued.
Rather than bringing in a new law to override this, or giving pension schemes extra rights to modify their own rules, the government is instead making the CPI the minimum yardstick for annual indexation and uprating in private schemes.
However, it will not be compulsory for private sector schemes to adopt it if they currently use RPI.
"We think that if the scheme rules say your pension is protected by the RPI then that should continue to be the case," Mr Webb told the World at One programme on BBC Radio 4.
"Because we want people to have confidence and trust in their pensions we will not be re-writing the rules of their pension schemes.
"If you joined a pension scheme, [and] when you joined it the rules said that your pension would be protected by the RPI, and the scheme does not currently have the power to change its rules, we are not going to change that."
The government also said it intended to make it compulsory for employers to consult their staff if they wanted to change their method of inflation uprating.
Labour said it was opposing the switch to CPI as no time limit had been set on the policy.
Shadow pensions minister Rachel Reeves said pensioners would be worse off, adding that the change was not about deficit reduction but was an "ideologically-driven move".
The Unite union also criticised the plan to make CPI the minimum measure for updating pensions.
"The government is offering companies a licence to steal money from the pensions of workers who have already earned it and saved it for retirement," said Unite general secretary-elect, Len McCluskey.
"The CPI is not a better guide of inflation, it's a lower one which the government has opportunistically seized upon with scant regard to its impact on vulnerable pensioners.
Reduced value
Since the CPI was first introduced in 1996 it has lagged behind the RPI by an average annual rate of 0.83 percentage points.
That is because it measures changes in the prices of different items than the RPI - principally ignoring mortgage interest payments, council tax, buildings insurance and house-buying costs - and it measures those changes using different arithmetic techniques.
The newly established Office for Budget Responsibility recently estimated that the gap between the two indexes, vital for the inflation uprating of pensions each year, would spread to 1.2 percentage points over the next five years.
Over 20, 30 or 40 years of retirement such a difference would make a sharp cut to the value of someone's prospective pension.
The government said available evidence suggested that 70%-80% of private sector company schemes had RPI "hard-wired" into their rules for uprating pensions in payment.
The rest typically have rules which stipulate that they will use whichever method the government stipulates.
This is a common approach for the revaluation of deferred pensions, but is uncommon for the rules on the indexation of pensions already in payment.
The potential saving to pension schemes of adopting CPI was illustrated in November by BT.
Its pension trustees decided that their rules meant they automatically had to use the slower rising measure of inflation, now that it was being used for the state and public sector schemes, and that this would knock £2.9bn off BT's £9bn pension scheme deficit.
Joanne Segars, chief executive of the National Association of Pension Funds (NAPF), said the government had conducted a U-turn by holding back on company pension schemes making the switch.
She said its previous announcements had caused enormous confusion owing to the complexity of changing the system, but it had now stepped back by not forcing employers to change scheme uprating from RPI to CPI.
"The government has marched us up to the top of the hill and is now marching us back down again. It is hugely, hugely confusing for schemes," she said.