Pension savers set to get more flexibility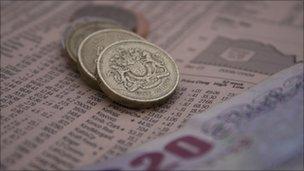 Changes to rules on pensions that may give savers more freedom have been announced by the government.
From April 2011, there will be no obligation to buy an annuity from an insurance company with money saved in a personal pension, the Treasury says.
More flexible options will include continued investment or moving to a process called "income draw-down".
But a limit will still be imposed on the amount of money most pensioners can take from their fund at any one time.
An annuity is a financial product that guarantees a set retirement income for the rest of your life and is bought using pension savings.
However, when the annuity-holder dies, none of that money gets handed down to family members.
In 2009, some 450,000 people bought an annuity and 200,000 were drawing on their funds with the alternative "income draw-down" method, Treasury figures show.
The proposed law, as promised in the June emergency Budget, will remove the effective obligation to buy an annuity by age 75.
However, the new law will stop people spending all their pension savings and then falling back on the state.
The maximum most pensioners will be able to draw in any one year will be the equivalent of the single person annuity that they could buy with their pension pot.
Only those who can show they already have pension income of at least £20,000 a year - for instance from a combination of the state pension and a company pension - will be able to take more from their personal pension pots.
They will be able to withdraw any additional personal pension fund money in one go, without restriction, though still subject to income tax.
"Those with large pension funds and other sources of income... are likely to benefit most from any enhanced flexibility," said George Bull of accountants Baker Tilly.
"Most contributors are still likely to opt for an annuity, which will more or less provide a guaranteed income for life," he added.
The new pension legislation will form part of the 2011 Finance Bill.
"The new rules will mean that you will not need to buy an annuity from a life insurance company, you can just drain your pension savings directly instead," said annuity expert Billy Burrows.
"However, the government intends to increase the tax rate from 35% to 55% on any lump sum left over to your inheritors from this pension pot when you die."
Joanne Segars, chief executive of the National Association of Pension Funds, said: "Such extra flexibility can be useful, but these changes will mainly benefit those with larger pensions and multiple income streams.
"Annuity rates may have fallen recently, but the guaranteed income they offer is usually the best option. We think most people will still end up choosing an annuity.
"The real problem is that people are simply not saving enough into their pension pot in the first place."
Related Internet Links
The BBC is not responsible for the content of external sites.