'People power' planners face home truths
By Emma Simpson
Business correspondent, BBC News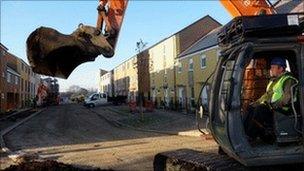 The villagers of Dundry finally feel they are being listened to.
For the last two years, they have been campaigning against a huge new housing development on their doorstep.
The South West Urban Extension would have resulted in 9,500 new homes over the next 15 years.
Covering many acres of greenbelt land, it was a controversial scheme.
But it will never see the light of day now.
Localism, as it is known, is already having an impact.
The idea is that instead of Whitehall bureaucrats deciding what gets built, local communities in England should have the freedom to decide what their area looks like.
That's music to the ears of Debbie Nicholls.
"We're fed up being dictated to by central government who don't know what is required in individual areas," she says, standing in her back garden which would have backed directly on to the scheme, had it gone ahead.
"Local communities know what they need. Local councils listen to local people and build what is required, where it is required," she adds.
England's planning system is being turned on its head with an unprecedented amount of power being transferred to communities. It has huge implications for housebuilding.
But the big question is - if you leave it up to locals to decide on the often thorny issue of development, will enough homes get built and, crucially, in the right places?
Nowhere is Britain's chronic shortage of homes better illustrated than nearby Bristol.
As the city driving most of the region's growth, it is one of the places we are banking on to help us with the recovery.
But according to Matt Griffith, from the campaign group PricedOut, prices are now completely out of kilter with local wages.
"We're not far off London levels in unaffordability. The housing stock of Bristol is also old, small and with little outside space, which means there is a lot of pressure for decent-sized family homes," he said.
So how best to secure these much needed new homes?
Under the old system, regions such as the South West were set housebuilding targets on what they had to build for in the next two decades. Labour said three million new homes were needed by 2020.
But the coalition government said these targets did not work and immediately swept them away.
It is fair to say these targets were never terribly popular among many local authorities.
Since May, many of them have had a rethink and are scaling back on developments.
The reductions have been dramatic in the west of England.
So far, 44,510 planned homes have been ditched by the four local authorities that make up the greater Bristol area. That's a third of the entire total they had been told to plan for.
That worries Simon Nunn from the National Housing Federation. "Nobody likes a large development on their doorstep, but we do need new homes," he says.
"It's easy for the politicians to turn round and say we'll put local communities in charge, but there has to be leadership.
"People have to realise that for the benefit of the local economy and for families in this region, we have to build new homes. If we're not going to build in surrounding areas of Bristol, then where are we going to build them?"
In fact, according to the national planning consultancy, Tetlow King, just over 200,000 planned homes in many parts of England are no longer going ahead.
The worry is that localism will end up as a Nimby's charter, with local authorities shrugging off their housebuilding responsibilities.
At the heart of the government's new approach is a cash bonus to councils to financially reward those councils and communities that deliver new homes and businesses to their area.
It amounts to equivalent of six years' worth of council tax for every new home built.
That new homes bonus could have netted North Somerset Council something in the region of £80m for the South West Urban Extension.
But its deputy leader, Elfan Ap Rees, says all that money would have made no difference.
"The greenbelt is more important than money," he says.
For the first time in 30 years, he said, his council was planning its own destiny.
"Clearly in some areas of the country more homes will get built and there will be local people who really want new houses," he says.
"I have to say it's the complete opposite here. For a long time, people have been saying here that they're fed up with all this residential development swamping us."
But for every opponent of development, there is someone crying out for somewhere to live. Laura Francis is now having to move to Frome in Somerset, many miles from her current home in Bristol, because she and her husband cannot afford to buy a new house for her growing family.
"It's pretty bad when two professionals can't buy a reasonable family home," she says.
"It's really frustrating and disappointing having to leave all our friends behind. There simply aren't enough homes where people want to live."
Resolving the tensions between those who have homes and those who do not has never been easy.
The coalition government is setting out on a radical new path. These planning reforms are being billed as the building blocks of the Big Society, so that local people can shape their own towns and cities.
"We need to take action to get Britain building again," says Housing Minister Grant Shapps. "Years of centrally imposed, top-down targets pitched developers against communities, with councils caught in the crossfire, and last year, housebuilding fell to its lowest level for any peacetime year since 1924.
"That's why we've set aside almost £1bn for a New Homes Bonus, which will ensure that those communities going for growth reap the benefits of development not just the cost.
"Councils who build more homes will start benefiting immediately from extra cash, which they can use to improve their local area."
Few would disagree that more houses need to be built. "There's a perfect storm at the moment," says the Housing Federation's Simon Nunn.
"The market conditions are not right to build at scale. We've had a 63% cut in capital investment in affordable housing, and we've got these planning reforms which are untried and untested.
"The combination of these three things means very serious challenges for housebuilding going forward."
Related Internet Links
The BBC is not responsible for the content of external sites.