China internet stocks launch on New York Stock Exchange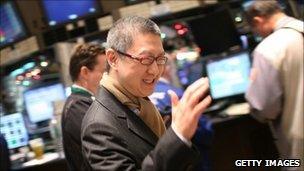 Two Chinese internet companies have seen their share prices rocket on their first day of trading on Wall Street.
Dangdang, an online retailer similar to Amazon, and Youku, which models itself on YouTube, were both floated on the New York Stock Exchange on Wednesday.
Youku was the best performer, almost tripling from a $12.80 offering price to close at $33.44, while Dangdang doubled its value in 24 hours.
Chinese firms have made 35% of initial public offerings in New York this year.
Typically they have outperformed other newly listed companies, giving an average return of 30%, compared with 19% for all new share issues as a whole, according to brokerage Renaissance Capital.
Three more Chinese companies are lined up for later this week, including martial arts film studio Bona Film Group, Taiwanese chipmaker SemiLEDs, and mobile apps firm Sky-mobi.
However, the craze for Chinese stocks, driven by high expectations for the Asian giant's growth, bears some resemblance to the dotcom days.
Youku, which makes its money from advertising, has seen revenues rise 1,000% per year on average for the last two years.
But the company has never made a profit.
"We feel listing on the New York Stock Exchange helps elevate the local brand and solidify our leadership position in the video market," explained Youku's chief executive, Victor Koo.
His company had initially only expected to issue its shares at a price of $9-$11.
The eventual $12.80 issue price raised over $200m (£128m) for a business that made a $25m loss in the first nine months of this year.
The day's closing share price valued Youku as a company at $3.4bn.
For its part, Dangdang - which controls half the Chinese online market for books and media - started turning a profit in the first nine months of this year, on revenue growth of 55%.
"They look at the success of Amazon and they look for that in China," said Dandang's chief financial officer, Conor Chia-hung Yang, explaining the phenomenal demand for his company.